Click for Dean Sise Highlights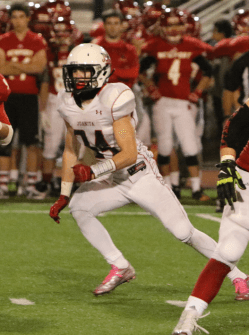 Juanita (Kirkland, Wa.) ATH Dean Sise had his patience pay off last weekend when he received his first offer.
"I got an offer from Portland State," a happy Sise told Northwest Elite Index. "I had been talking to them for a while. Coach (Ben) Thienes, the linebackers coach, and coach (John) Ely, the safeties coach, have been the two main coaches I talk to the most.
"They made sure I made it to their spring game on the 23rd (of April) and after they took me and my mom around the facilities and sat us down in the coaches conference room and head coach Bruce Barnum offered me a full ride scholarship.
"It was honor receiving my first offer from the Big Sky coach of the year."
While the Vikings were the first school to extend Sise and offer, they by no means are the only school interested in what he can do.
"I'm talking to Fresno State a lot," Sise noted. "Coach Nick Toth, coach (Richard) Helepiko, and coach (Jordan) Peterson, the outside linebacker coach, they all have been talking to me and they have a coach coming by the high school soon.
"I also have a great relationship with Coach Grant Schadeberg at Oregon State. Coach (Travis) Niekamp the linebacker coach from Montana will be coming by the high school in a few weeks.
"I attended Junior Days at both Oregon State and Montana so I'm looking forward to seeing the coaches again.
"I also have a great relationship with coach (Shaun) Nua and coach (Eric) Mele at Washington State."
This summer, Sise will be hitting the camp circuit to take part in several camps and see several of the schools that have also started to show him some interest.
"I'm flying out June 20th to stay with my grandpa and attend camp at the Air Force Academy and get with the coaches down there. I am also hoping to get to Utah State, San Diego State and Boise State this summer."
As a junior last season, while playing outside linebacker, Sise finished with 48 tackles, five sacks and 10 tackles-for-loss while helping lead the Rebels to a 9-3 record and a berth in the quarterfinals of the state playoffs.
"I do my job and what I'm coached to do," Sise said. "I am always focused on being a leader and bringing energy to the field. I like to set the tone on defense and send a message every play.
"Every game I wanna be the most physical player on the field.
"I feel like I can do it all on the field, but I see my best asset as a pass-rusher. My get-off is fast and I use my explosiveness and quick hands to make the play.
"Coach (Lele) Te'o has helped me a tremendous amount with my hands and to use my explosiveness and physicality to my advantage every play."
Sise has a very nice frame (6'1″, 195) and room to add size and bulk. He has outstanding instincts and he is a physical player with strong leadership skills.
As more college coaching staffs get a look at what he can do on the football field, Sise should see interest really start to pick up and he could see several more offers come in before the start of his senior season.