Click for Keegan Stich Highlights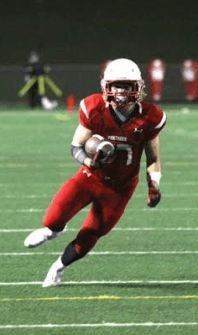 One of the top returning ball-carriers in the state in 2016 is Snohomish (Wa.) junior tailback Keegan Stitch and he updated Northwest Elite Index recently on what he's been up to this offseason.
Stich, a 5'11", 190-pounder, received First Team All-WESCO honors after enjoying a solid sophomore season this past fall, finishing with 734 yards and 14 touchdowns on the ground while hauling in 32 receptions for 439 yards and three more scores.
"I'd say, since I'm not the biggest guy, I am more of an outside runner," Stich told NEI. "I can make guys miss in space, I have good vision and instincts and I have a good burst and quickness."
This offseason, Stich has been hard at work perfecting his craft and he even dropped one of his favorite sports to become the best football player he could be.
"I normally would be doing track right now, but I decided to not run this year so I could focus on getting better as a football player," Stich said. "I've been really focused on my speed. I've been doing speed drills and working with a trainer on being more explosive in my movements and then I go out and run with the speed bag a lot on my own as well."
As far as recruiting is concerned, Stich has yet to see things really take off, but he's hoping to hit several camps this spring and summer in order to garner more looks.
"I know that I want to hit the Northwest Elite camp and I'd really like to get over to Washington State for their camp," Stich said. "I'm still looking at what other camps I can go to and seeing what fits into my schedule, but I plan on doing a few more."
With his size and natural running skills, Stich is a player who has the ability to be effective at the next level and once schools get a look at what he can do on the field against some of the top competition in the region, more of them should start to stand up and take notice.
NEI will continue to keep tabs on Stich and we'll have more on him as he continues to work his way through the recruiting process over the next two years.