Click for Paxton Stevens Highlights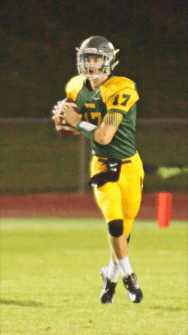 One of the best 2017 in-state quarterbacks nobody knows about, at least right now, is Richland's Paxton Stevens, but that could change this spring as more schools get a look at what he can do.
As a junior last season, Stevens led the Bombers to a 12-2 record and a berth in the State Semi-Finals by completing 55% of his passes for 1,788 yards with 13 touchdowns and 10 interceptions.
"I think I can do whatever it takes to help my team," Stevens told Northwest Elite Index recently. "I am probably at my best staying in the pocket and delivering the ball to my receivers, but I have good feet and I can make plays with them when the play breaks down.
"I like to get out and run, but my first thing is to get the ball to my teammates and so usually I just keep the play alive with my legs and keep my eyes down the field."
This offseason, Stevens has been hard at work, focusing on the finer points of playing the quarterback position.
"I'm working really hard on making sure my footwork is where it needs to be," Stevens noted. "My quickness is another thing I want to get better and I am also trying to get stronger."
Recruiting has been a bit on the slow side with interest coming from UTEP and a few smaller schools, but Stevens hopes that once coaches see him on the camp circuit that things will pick up.
"I want to hit a lot of the local camps," Stevens said. "I'm definitely going to the NIKE Regional at the Seahawks Facility at the end of May, but I am also going to go to the Washington camp, the Eastern Washington camp and the Northwest Elite camp as well.
"I'm looking at other ones, but those are the ones I am pretty much set on.
"I really just want to compete and show the coaches what I can do on the field."
Stevens is nearly 6'3″ and he weighs close to 190 pounds. He's got a strong arm, great leadership skills and he's been successful at the highest level possible at the prep level.
While nobody is really talking about him right now, don't expect that to remain the case once we get into the summer.