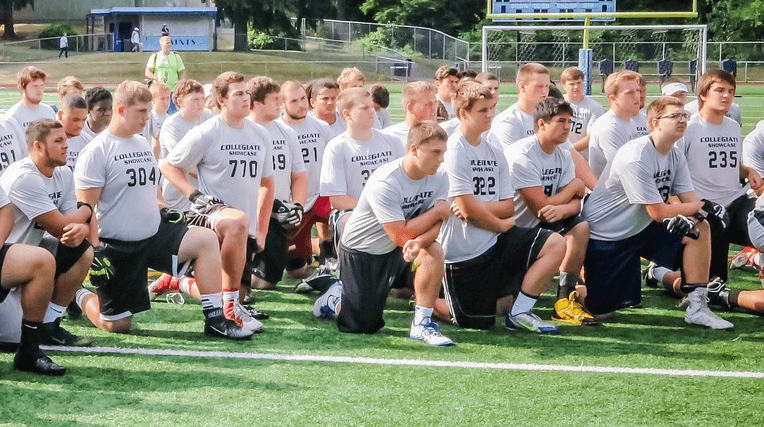 The Rough Diamonds NW College Showcase is a week away. Their three session format is a game changer for helping college coaches evaluate in a showcase setting. Every athlete will be on the be on the same field during their session. College are able to watch every athlete working out and get a proper evaluation.
This year's event doesn't have any FBS schools in attendance, and it should greatly benefit the athletes. They will be able to focus on schools that are more realistic to the athletes in the Pacific Northwest, like Big Sky Conference schools, while also helping themselves build a recruiting foundation with D2, D3 and NAIA schools.
If you would like to register for the event, visit RDAFShowcase.com.
Last week I took an early look at some of the pre-registered athletes, and decided now was a good time to update some of the latest signups. To view an athletes film, simply click their name below.
Marques Hampton (2017) – WR, Steilacoom – Hampton is one of the state's top wide receivers in his class. He has good size, hands, speed and all-around athleticism. Hampton currently holds an offer from Eastern Washington, and will likely add to his list following the NW College Showcase.
Gunner Talkington (2017) – QB, Battle Ground – Talkington is undersized, but can absolutely sling the rock. He threw for over 2,700 yards and 24 touchdowns last season, while completing over 71% of his passes. Talkington does a great job commanding the offense and has great timing on his throws.
Taj Hoard (2017) – LB, Gonzaga Prep – Hoard is one of the top defensive players in the state that currently does not hold an offer. He finished last season with 115 tackles, 30 for a loss and 14.5 sacks. Hoard plays with incredible instincts and is all over the field. He will be tested this year with the loss of Evan Weaver (CAL), but I fully expect him to respond.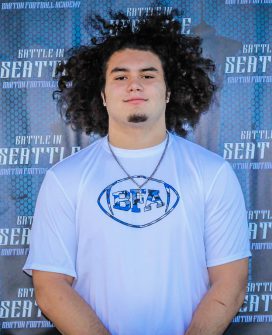 La'jon Enis-Carter (2017) – WR/DB, Steilacoom – I am still not sure where I like Enis-Carter. He makes some absolutely incredible catches as a receiver, but is so instinctive and athletic that I really like him as a Free Safety. Either way I see Enis-Carter as a D1 athlete, and his hard working, chip-on-my-shoulder mentality will make someone happy.
Alex Chapman (2017) – DB, Richland – Chapman was one of the state's leaders in INT's last season, and returned a few for TD's. He is an instinctive corner that is good in both man and zone. Chapman is a tremendously gifted athlete that has the ability to bait QB's into a throw by playing off, but recover in time to make a play.
Giovanni White (2019) – OL, Lincoln – White projects highest at either Center or Guard because he is a bit undersized. He plays a tough, hard-nosed game and is very technically sound. White moves very well from side to side and is likely the state's top interior lineman for his class.
Willie Patterson (2017) – ATH, Franklin Pierce – Patterson is one of the state's top all-around athletes. He plays QB for his team, and threw for a ton of yards, but he projects highest in the SLOT where he can use his athleticism. Patterson finished last season with nearly 4,000 total yards, including 700+ on the ground.
Alex Yockey (2017) – DL, Newport – Yockey plays a physical-mean game. He has a good frame, might be a bit undersized, but more than makes up for it with his intensity and motor. Yockey was a LB at one point, and shows his athleticism. We've seen him at various camps over the last few years, and he is usually one of the better DL in attendance.
James Dodd (2017) – LB/DL, Sultan – Dodd is listed as a LB, but is really a hybrid 3-4 OLB/DE type. He has good size (6'3″ 230) and plays with a high motor. Dodd moves well for his size and seems to enjoy contact. While he plays at a low level in the state, his game would translate well to the bigger schools.
Alex Pastrana (2018) – DL/OL, West Seattle – Pastrana is a bit undersized (6'0″ 255), but he makes up for it with technique and toughness. He probably projects highest on the defensive side of the ball, but is a very capable G/C offensively. Pastrana is a good student and one of the better two-way lineman in the Metro League.
Jared Eisenbarth (2018) – TE/WR, Woodinville – Eisenbarth is a bit of a tweener on the offensive side. He probably projects best as an H-Back, as he is a very capable receiver and is also very good in the run game. Size (6'0 185) is what pushes him to being a tweener, but he has a solid frame and looks like he should have no problem adding weight.
Tanner Bolt (2017) – QB, Prosser – Bolt is one of the more unknown QB's in the State of Washington. Last season, in leading the Mustangs to a 2A State Championship, Bolt threw for 3,294 yards and 43 touchdowns, while completing 62% of his passes. Bolt has good arm strength, sneaky athleticism and is a great decision maker.