Click for Ben Wilson Highlights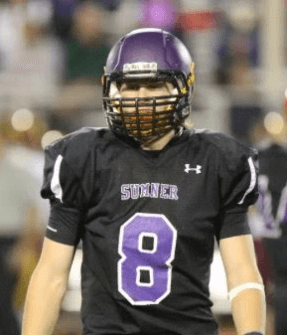 More and more schools are taking an interest in 2018 Sumner (Wa.) LB Ben Wilson and he could be adding to his list of suitors in the coming weeks in the lead up to his junior season.
"I'm still at three offers — Idaho, Hawaii and Montana State — but I have been talking with a lot of other schools," Wilson said recently. "The main ones that are in regular contact are Washington, Utah, Oregon and Oregon State and I'm actually heading up to take part in the Rising Stars Camp next weekend."
As a sophomore starter last season on a team that went 10-1, Wilson led the way with 181 tackles, 12 tackles-for-loss and three sacks from his middle linebacker spot.
"I just enjoy contact and hitting people. It's what I do best and it's why I love to play the position I play," Wilson said. "I am probably at my best stopping the run just because of how I read stuff and also my physicality, but I can also get sideline-to-sideline and make plays against the pass too."
Most schools see Wilson playing inside due to his outstanding instincts and physical nature, but one sees him playing outside.
"Hawaii likes me as an outside linebacker," Wilson said. "I'm fine with playing wherever a team sees me playing. I just love to play football."
This offseason, Wilson has been hard at work, hitting both the weight room and the training table.
"I'm 215 right now, but I want to be 220, so I've been working out a lot, trying to get strong and add muscle," Wilson noted. "I also am working on eating right and doing what I need to do to get ready for the season."
Sumner projects as one of the top 4A football programs in the state this coming fall and Wilson will be a big part of it. Expect more offers to roll in once schools get a look at him live this season and for him to be one of the most highly sought-after prospects in the state if not the region in the 2018 class.