Click for Josh Johnston Highlights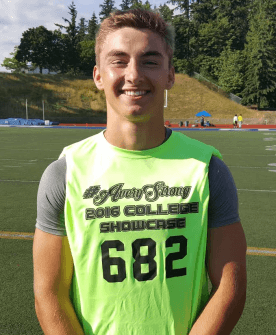 After a solid junior season, 2017 Snohomish (Wa.) WR Josh Johnston has a handful of schools watching him this summer and he's hoping to haul in at least a couple of offers before the start of his senior season.
Johnston was a two-way star for the Panthers last season, grabbing 48 receptions for 760 yards and 12 touchdowns while posting 45 tackles and an interception as a safety on defense, earning First Team All-Wesco and Second Team All-Area at receiver and Second Team All-Wesco as a defensive back.
"I see myself more on the offensive side of the ball," Johnston told Northwest Elite Index recently. "I love playing on both sides, but most of my looks have been at receiver and I've been playing receiver all summer with my seven-on-seven team, so that is where I feel like I can have the biggest impact."
So far this spring, Johnston has been hearing from several schools, but so far, he hasn't gotten an offer to this point.
"I've been talking with coach (Eric) Mele from Washington State and I've also talked with San Diego, Columbia and Montana State," Johnston noted. "It's been kinda slow, but a lot of the coaches have said they want to either see me at camp or to see my first three games.
"I went to Washington State's camp and I also went to May Madness, the Northwest Best Showcase in Portland and I'm planning to go to Montana State's camp, Montana's camp, San Diego's camp and then out to Yale and Columbia's camps hopefully."
While he loves the offensive side of the ball, Johnston has been tasked with helping to lead the Panthers' secondary.
"I see myself as a leader back there," Johnston said. "In our defense, the free safety controls everything back there and he has to make sure he knows where everyone is supposed to be and to help get guys lined up right.
"Offensively, I'm working a lot on my routes and also on my forty time. I want to get faster and put on a little bit of size and I'm working with the Juggs machine almost every day catching a ton of balls."
At nearly 6'2″ and 182 pounds, Johnston is an impressive looking prospect who has great instincts, soft hands and a very good work ethic. While he's still waiting on some offers, he should have several opportunities in front of him before Signing Day rolls around on February 1st.