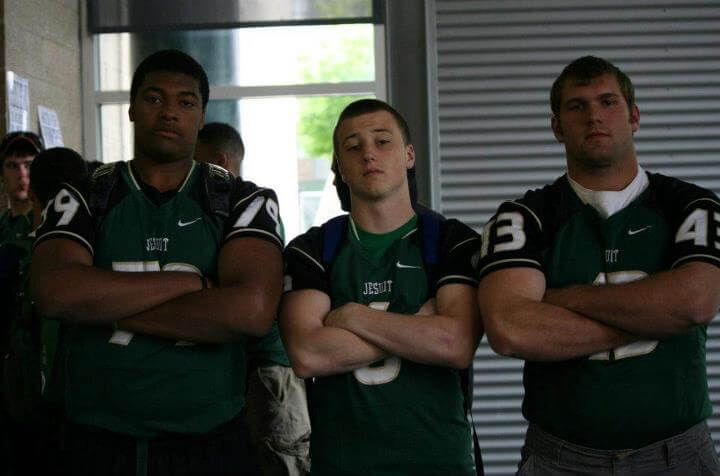 RBs through 3 Games:
THOMAS TYNER- Aloha 1230 Yds, 17 Tds
AJ GLASS- Jesuit 778 Yds, 14 Tds
JAKE LACOSTE- West Albany 1000 Yds, 13 Tds
Early in the 2012 season we have seen some incredible statistical performances from a host of different athletes. Thomas Tyner and Jake Lacoste have both balled out of control putting up some ridiculous numbers, but the kid from the nationally ranked Jesuit Crusaders has been lights out too. AJ Glass (6-1 200 Sr. RB/S) has run all over three good football teams, racking up 14 Tds in his first three games. When you are averaging almost 5 Touchdowns a contest you are doing something right.
Glass has accounted for 778 rushing yards on 77 carries, averaging 10 yards per on the season. Glass is coming off a 2011 campaign that saw him rack up 2006 yards and 25 Tds, before losing to Lake O in the state semi's. The kid is nasty, and while this was being written AJ informed us that Dartmouth's head coach had called, and told him that he had gained his Ivy League acceptance and they were offering. Pretty exciting stuff, as this was the first school to extend an offer to one of the best overall football players in the entire northwest.
AJ hits the hole as fast as any back in the region. His ability to hit a lane and bounce, is due to some ridiculous leg strength gained while training year round at PTC and also skiing. He's a unique back, because he beats you with acceleration and immaculate vision that you just can' t teach. Yes he has a line that averages 6-5 290 across the board, and yes both of their TE's are D1 kids in Oregon commit Doug Brenner (6-3 280 Sr.) and top junior TE Henry Mondeaux (6-5 245 Jr.)
I don't think AJ would argue that is up front cast is as good as almost any line in the country. Washington commit Andrew Kirkland (6-5 300 Sr. OL) and Max Rich (6-7 315 Sr. OL) are both big time D1 kids, and lead a very talented overall group. If that wasn't enough Head O Line Coach John Andreas is one of the most talented up front minds in the region.
All said Glass has been the ultimate team guy doing whatever was asked of him. He is also one of the top safeties in the state, and has been locking it down on D while carrying the ball 25+ times a game. His carries will probably increase as the season progresses and the weather changes. Coach Potter is happy to run AJ 40+ times a contest if thats what is working. With the line that they currently have and top junior athlete Joey Alfieri (6-3 220) blocking, it's hard to think who is going to stop them.
We couldn't be happier for AJ and the entire Glass family. He's a 3.9 student and even a better kid, with a family that all of us at NEI are happy to call our friends. Its still early and Glass is on pace to potentially break a few records, so we will be keeping tabs on Jesuit, Glass, and any additional offers that come in.