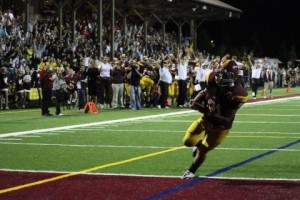 The last two seasons in Enumclaw were a struggle. The spread offense and zone blocking scheme really did not fit very well and it led to a 3-15 record. When first year Enumclaw head coach Mark Gunderson took over he knew the Hornets needed a change in philosophy. "I wanted to get back to power football and winning league championships in Enumclaw" Gunderson said.
If you want to be a power football team, you have to start on the offensive line. The Hornets come in with a very powerful left side in Jr's Chandler Streuli (LT, 6-3 290) and Sam Fisher (LG, 6-2 240).
Talking about Streuli and Fisher, Coach Gunderson was a bit giddy in saying "At camp we started calling them Mean And Nasty".
The two share a love for the game that can't be matched. I attended two Enumclaw 7-on-7 events over the summer and both Streuli and Fisher were there watching from the stands as if the games meant something. "I love football" Fisher said. "It has been my life since 3rd grade".
Streuli and Fisher are also great students in the classroom, Fisher has a 3.75 while Streuli sports a 3.9 GPA and he isn't satisfied with that. I asked if his GPA was worthy of being reported and he said "Yeah, its not where I want it to be though, its a 3.9".
Going 1-8 last season wore on the two Sophomore lineman. One thing coach Gunderson had to do was help them regain their confidence. In last weeks 54-35 win over Heritage, the Hornets went almost exclusively to the left side while on the ground. Streuli says "I want the ball coming my way. It is a lot of pressure and I'm perfectly fine with that".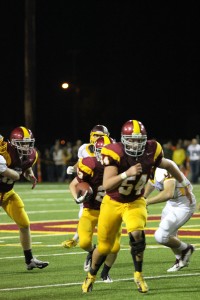 The guy fortunate enough to run behind that line is bruising Jr. RB Mauricio Portillo (5-11 210) who missed all of his Sophomore season due to herniated discs in his back. He is healthy now and looking like he never missed a beat. When I asked Fisher about Portillo he said "Mauricio is really driven. All he wants to do is play football".
Football is something Portillo realizes he needs to continue to work on and it hasn't always been easy. "I was the slowest kid when I started playing football in the Sumner Wolfpack organization". He continued, "I was the sixth string right guard and didn't really get to play. I didn't start playing runningback til 7th grade".
That is all gone now, but you can see the lineman mentality in the way Portillo runs. Coach Gunderson boasts "He is one of the toughest kids I've ever coached. Mentally and physically". He continues, "Last week before our game he was actually sick. He had to sit on a bus for three hours then went out and rushed for 250 and 6 TDs".
Gunderson, Streuli and Fisher all three spoke very highly of Portillo's work ethic. Mauricio says, "We all push each other on the field and in the weight room".
Coach Gunderson lauded at the leadership of both Portillo and Streuli, "The players voted for captains and they selected Mauricio and Chandler as two of the three. That doesn't happen a lot as players usually vote for seniors". He continued, "It really speaks to the time and effort those two kids have put in".
The Hornets are a young team that are gaining experience every game. Along with Streuli and Fisher they also start Jr's R.J. VanHoof (5-10 245) and Richard Heer (6-0 225). The only senior of the group is Center, Nathan Piggot (6-0 220). They also have emerging Sophomore Elijah Dennison (6-1 210). The Hornets are not only lineman though. They also have another Jr RB in Cameron Stecker (5-7 140) and a WR/DB Trey Rodarte (6-3 160) that I really like.
The future looks bright in Enumclaw. They have a good foundation and the community support is second to none. I will leave you with my favorite quote from Coach Gunderson, "It is really a pleasure to preach something and have the kids just eat it up".
Chandler Streuli's Highlights http://www.hudl.com/athlete/635757/highlights/9403394
Sam Fisher's Highlights http://www.hudl.com/athlete/623358/highlights
Mauricio Portillo's Highlights http://www.hudl.com/athlete/650625/highlights/19912403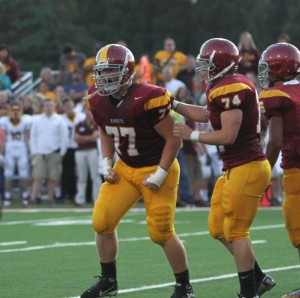 All photography in this post is brought to you by Clara Dodge. You can find her work by following this link http://claradodge.smugmug.com/