1. Bellevue (3-0)

Quality Wins: Trinity, Texas (Top 20 Nationally) 31-24 ; Bothell 35-7
The Wolverines are once again one of the top teams in the country with a plethora of D1 commits; Myles Jack is one of the best players in america and is committed to (UCLA); Sean Constantine is one of the best backers in the land and will be a husky (WASHINGTON), and junior speedster Budda Baker has (11 OFFERS) and counting from almost everyone in the Pac 12. Senior DB's Michael Carlson (OFFERS: MONTANA, MONTANA ST) and Reuben Mwhela (IDAHO) are two of the best defensive backs in the Northwest. The Wolverines also have two outstanding D lineman without offers in Nick Santa and Darien Freeman. Expect both of those kids to have their choice of schools before all is said and done. The win against Trinity spoke volumes about Bellevue football, as football is a religion in Texas, and anyone beating a team like that is the real deal.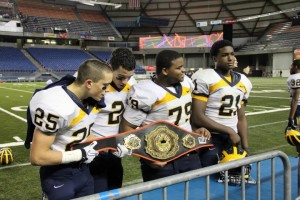 Ari Morales 5-10 170 Sr. Slot/DB, Michael Carlson 6-2 215 Sr. S (OFFERS: MONTANA, MONT ST.), Darien Freeman 5-11 295 Sr. DL, Myles Jack 6-2 220 Sr. LB (COMMITTED:UCLA)
2. Jesuit (3-0)
Quality Wins: Beat 3 good/ not great teams (153-36) Avg score 51-12
Some people will question why I have Jesuit ahead of Skyline so lets just get the justification out of the way quickly. Max Browne will be a 1st round NFL draft choice, but if Jesuit and Skyline were to play the Crusaders would use there line which averages 6-5 290 across the board and pound the football. They would use clock and do their best to keep Browne off the field as much as possible. I feel like the advantage up front would be even to much for Skyline to overcome. Jesuit features Andrew Kirkland 6-5 300, committed to (WASHINGTON), Max Rich 6-7 315 (Offers 7+ WASHINGTON ST), and NW strong man Doug Brenner 6-3 280 committed to (OREGON). Brenner plays DL/TE for the Crusaders, but will play G/C for the Ducks. The Crusaders also have AJ Glass (Offers-DARTMOUTH) who went for 2000+ and 25 Tds last year, and has 14 Tds this season in the first 3 games. Adding to the incredible list is a junior class that may be the best in the northwest lead by 4 D1 kids in junior LB in Joey Alfieri, TE Henry Mondeaux, ATH Trent Werner, and QB/DE Christian Martinek. Not quite sure if anybody in Oregon can match up with the line.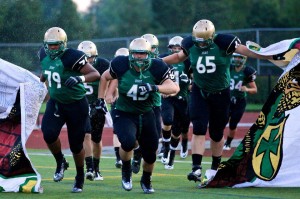 Andrew Kirkland 6-5 300 Sr. OL (Left- Committed WASHINGTON), Doug Brenner 6-3 280 DL/OL/TE (Center- Committed OREGON), Max Rich 6-7 315 OL (Right- WASHINGTON ST +6)
3. Skyline (3-0)
Quality Wins: Coeur' D alene , ID. (2 Time state champs) 71-20, Bothell 33-21
If there is a poster boy for what you want in a QB Max Browne (USC) is it. He's the best Quarterback in the country and the type of kid you want your daughter to date. He torched Idaho's best last week in what was a clear statement of how far some teams have to go before they mess with the Spartans. Returning Conference Player of the Year Peyton Pelleur (WASHINGTON ST) is one of the top LB's in the region, and Nic Sblendorio (OFFERS- N.COLORADO) is maybe the most underrated WR we have seen in some time. All spring and summer he dominated at every event that he attended, including in Vegas at the National 7 on 7 tournament as part of NEI-North. The Spartans have a host of other talented kids that includes LB Devin Benford (OFFERS: WYOMING), WR Trevor Barney, and WR Matt Sinatro. Head Coach Mat Taylor has his guys dialed and last weeks blowout of Idaho's best shows what they are capable of.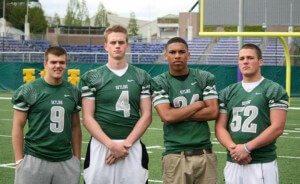 Nic Sblendorio 6-0 190 Sr. WR (Offers: N. Colorado), Max Browne 6-5 210 Sr. QB (Nation's #1 QB Committed: USC), Devin Benford 6-4 225 Sr. LB (OFFERS: WYOMING), Peyton Pelluer 6-2 235 Sr. LB (Committed: WASHINGTON ST)
4. Sheldon (3-0)
Quality Wins: Central Catholic 33-26
People can forget how good the Irish are. Lane and Marty Johnson run one of the classiest and most talented programs nationwide, as they are 42-2 in the last three and a half seasons, with two state title appearances and a 2010 state championship. Connor Strahm (OFFERS: PSU, N.DAKOTA, MONTANA) returns as the 2011 SWC Offensive Player of the Year after recording 1900 All Purpose Yards and 28 Tds in 2011. LB James Banks is one of the best in the Northwest, and 6-6 240 pound D lineman Mike Ralston (OFFERS: N.COLORADO) has been lights out. The Irish have a ton of other talented kids that will contribute including juniors Mitch Herbert, Tanner Davies, Liam Talty, Marcus McGovern, and Yadie Dunmore (brother of Oregon Duck Oshay Dunmore). The Irish are flat out just really good, the only downside is this years Southern Oregon Conference where there is a chance they won't be given a game. This could hurt come playoff time when the competition factor picks up.
5. Aloha (3-0)
Qulaity Wins: Tigard 36-34
Future Duck Thomas Tyner (OREGON) is one of the top RB's in the country and his 1230 yards and 17 Tds in 3 games goes a long way in explaining that. Last weeks 643 yard, 10 TD performance still has people talking all over the country, including at ESPN where he was listed as #2 on the Top 10 Plays of the Week. Brayden Kearsley 6-5 300 (BYU+ 7 Major) is the best overall O linemen in the NW, and he is the leader of maybe the only line that can hang with Jesuit. Sidekick Mike Kluge is one of the strongest kids in the country, and will be the leading candidate for Defensive Player of the Year in the conference. AJ McCollum and Dominic Johnson are two senior leaders that have more then gotten the job done, while Junior Maurice Mcswain is the X factor if people can somehow lock down Tyner. The main concern right now is the defense that just gave up 63 points to Lakeridge. They need to make some adjustments if they want to beat the top teams.
6. Mead (3-0)
Quality Wins: Outscored 3 opponents (131-23) Avg Score 44- 8
Danny Mattingly (NOTRE DAME) is the guy that everyone knows out in Spokane, and the 6-6 235 pound monster is dominating all over the place. Opposite Mattingly on defense is another very talented D end in Langston Ward 6-4 245 (ILLINOIS, WYOMING 5+ OFFERS) who is a 4.0 student and another kid that locks it down. These two, and super talented junior dual threat lineman Jonah Jordan make the Mead D line one of the most feared in the northwest. Add in RB Davian Barlow and you have a kid on our " Top Athlete No Offers" list that has run wild. The only issue with the Panthers is that they don't really play anybody that can compete within their conference, other then Gonzaga Prep this season. They will have to be ready come playoff time when the competition will pick up significantly.
7. Lake Oswego (3-0)
Quality Wins: Central Catholic 23-14
The defending 2011 Oregon 6a State Champions have maybe the best defense in the state lead by LB Mitch Lomax (OFFERS: PORTLAND ST), D lineman Austin Faunce, Junior stand outs Nick Underwood and Jordan Horak, and the state leader from 2011 in INT's Jack Anderson (9). The Lakers are so fast defensively that they will be in every ball game they play this year, regardless of how many points they put up. The main question arises when we look at the offensive players lost from last year in Alex Matthews, Stevie Coury, Steven Long, and Zach Walen. These four together combined for about 42 points a game, so that's tough for anyone to make up for.
8. Mt Si (3-0)
Quality Wins: Issaquah 21-0 (111-6) Avg Score 37-2
We are big fans of the kids from Mt Si and most of us at NEI don't really think people know how good they are. Their defensive backfield alone is one of the best in the region with Hunter Malberg (OFFERS: N.COLORADO), and two of the fastest rising players in Washington in Jimbo Davis, and Trent Riley. Junior Nick Mitchell is ranked a co #1 quarterback for his class state wide, and is a natural born leader with D1 genes. Add in the state's highest ranked TE without an offer in Griffin McClain and returning all league WR Tyler Button and you have two more very dangerous kids.The defense has played lights out so far this season giving up 6 points in 3 games, and the kicker is (WASHINGTON) commit Cameron Van Winkle who more then sure's up the special teams. The only knock comes with the line, although thus far they have played very well.
9. Federal Way (3-0)
Quality Wins: Beat 3 Teams: (146-49) Avg Score 49-17
If anyone is looking for the fastest team in Washington check it. The Eagles have a laundry list of kids that just fly and will dominate everyone within their conference. Mike Tate (OFFERS: WYOMING, IDAHO + 5 Big Sky's) and DLondo Tucker (OFFERS: PORTLAND ST) lead this group on the perimeter. 6-3 240 LB Albert Havili (OFFERS: E.WASHINGTON) is another kid that recently locked up his first D1 offer, with the McNeal brothers – JJ and Zeke, and LB Rod Jones Jr. also being key to the teams success. The one kid we will hear a lot about for years to come is sophomore Chico McClatcher, one of the top young backs in the state.
10.Tigard (2-1)
The Tigers are not big, they don't have a bunch of high profile D1 kids, they are just really good. They have three backs (Zach Floyd, Benny Wick, Kaz Greene) and a junior slot/DB (Manu Rasmussen) that are some of the best players in the state. Chance Taylor and Anthony Consolo have stepped up big for the Tigers, as their only loss was a 36-34 classic to Aloha who came back from a 34-21 deficit. Floyd went for 23 Tds last season and will be a leading candidate for Offensive Player of the Year within the conference.
Qulaity Wins: L 34-36 Aloha