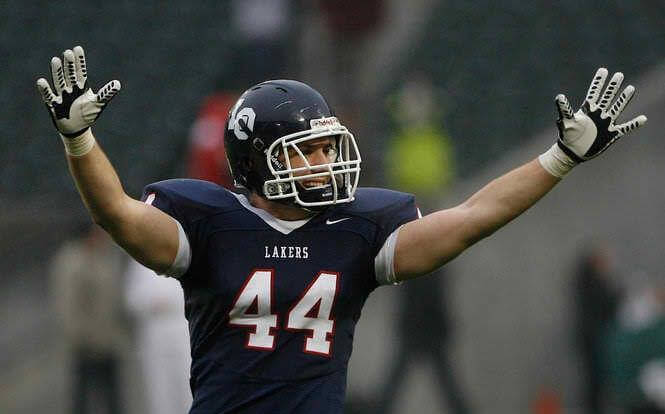 One of the State's top players In Mitch Lomax (6-4 240 Sr. LB) received his first offer today from the hometown Portland St Vikings. As most know Mitch is the son of local legend and NFL QB Neil Lomax. Almost as much as any kid state wide, it was a wonder how Lomax hadn't received an offer yet. Mitch will be in the running for state defensive player of the year, as he is extremely athletic and just fast.
He single handily changed games as a junior, earning first team all league honors on their way to a state title. Their (14-0) record and 14th place finish nationally was something that the entire community embraced. Lomax is on a bunch of different schools radars, and will have multiple options when all is said done. You can't teach legit size, and professional genes so his upside is through the roof. He has been a three sport athlete his entire life, so if he was to focus just on football he could be scary.
Mitch is a class act that works hard on and off the field and is very deserving. The Lakers haven't lost in 17 straight games, and they don't plan on starting any time soon. We definitely for see Mitch receiving some Pac 12 type offers, as he is as good as advertised. Last season Coach Coury reiterated that, "the kids the real deal". Mitch was the first LB on our " Top Athletes No Offers" section at NEI, so we have a lot of respect for his game
Neil has been a big part of the turn around at Roosevelt HS, as a coach and mentor to the athletes. He has missed most of Mitch's games prior to this year for that reason, but will be attending all of them this season. We wish Mitch continued success, and congratulations on what will most likely be one of many quality D1 offers.