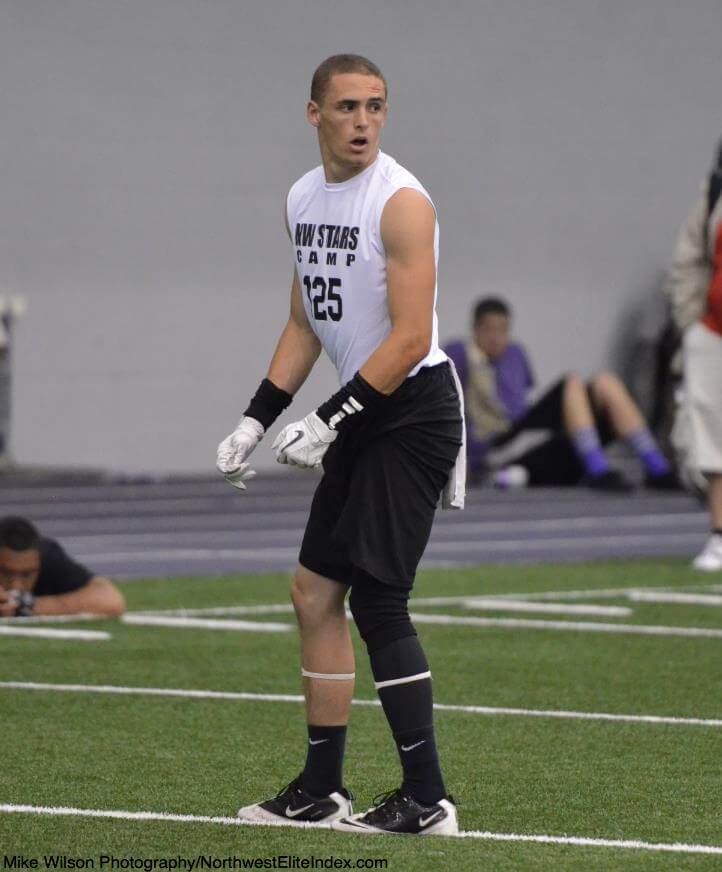 One of my favorite athletes to watch over the last year has been Mason Stone (6-0 175 Sr. S) of Mountlake Terrace. The kid is just very unique in what he does, as he is one of the most talented DB's in the northwest, and one of our " Top Athletes with No Offers".
We recently reported on his teammate Devante Downs (6-3 235 Jr. RB/LB), and how he is maybe the top junior recruit in the NW yet to be offered. Stone is similar in that there isn't much more that he could do, as he has balled out all over the place for the better part of the last two and a half seasons.
He has been an All Wesco DB since his sophomore season, on teams that went (2-8) and (6-4). As a sophomore he led the league in Interceptions with (6), while leading the team in tackles as a junior with (90). He participated in the Army All American Combine this past off season and MVP'd a relevant camp this summer.
Stone started out his HS career at Archbishop Murphy , but found it a better fit at Mountlake Terrace. He has improved his grades a great deal, learning different ways to better himself in the classroom. As of right now he is focused on doing everything he can to help his team get to the post season. "We want to make the playoffs this year, and play some games with meaning towards the end of the season". The Hawks had a rough year last season, but seem to be improving quickly. Downs is the real deal and one of the best players in the entire region, and Stone is a kid really high on our board that will have significant interest.
His biggest selling point comes with his testing as his football skills speak for themselves. He has a 10 foot broad jump, a 38 Inch vert, and (4.5) 40 . All of these numbers put him into a category of DB that can play a high level of college football.
On Friday Terrace barely lost to an undefeated and ranked Glacier Peak team 16-13, and Stone played outstanding. He had 2 Int's, 1 fumble recovery, 9 tackles, and some legit hits. Stone is a kid that will happily come and smack you, and should be considered a viable Conference Defensive Player of the Year Candidate.
We think very highly of Mason, and feel that he is a kid right on that recruiting bubble. With continued hard work and progression, he is an athlete that we will be watching on television for many Saturday's to come. Great work to Stone and high profile sidekick Devante Downs. These kids together are breathing life into a program on the rise.
Mason Stone Highlights http://www.hudl.com/athlete/189376/highlights/16246374