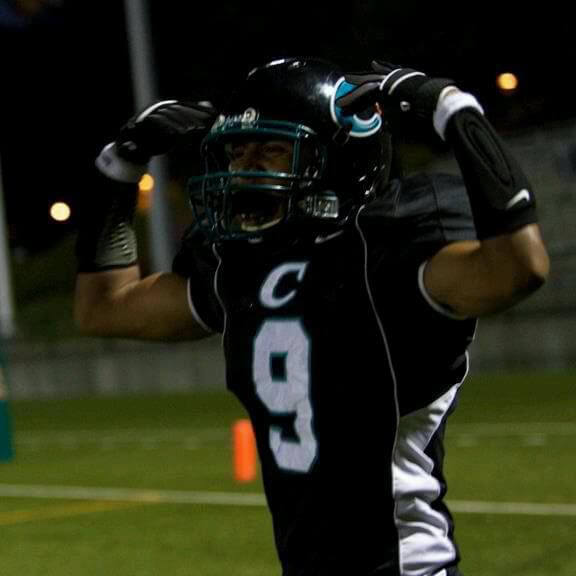 Silverton – How good is the Silverton defense? They pitched another shutout against a notoriously tough Corvallis team 49-0. They have beaten there last 3 opponents 116-6 with two shutouts against decent 5a teams in Bend and the Spartans of Corvallis.
Johnny Ragin Sr. LB Wilsonville – The high profile D1 recruit had a phenomenal defensive performance, as the Wildcats looked the best they have all year; 9 tackles, 3 sacks, 1 forced fumble, and a bunch of hurries.
Sunset Defense – Give Head Coach Faustin Riley and the Apollo D a lot of credit; A week after Thomas Tyner set the record books on fire Sunset almost beat Aloha holding them to 13 Pts, after Lakeridge dropped 63 on them a week ago.
Dallin Leavitt Sr. S/RB Central Catholic – The NW's top safety absolutely went off against the #1 ranked Jesuit Crusaders accounting for 20 tackles (12 solo), 2 knock downs, 2 forced fumbles, and a TD in the Rams upset victory 16-7.
Xavier Mitchell Sr. WR Century – The Unanimous first team all league selection from a year ago showed why he is considered one of the best receivers in the state accounting for 4 Tds and 109 yards receiving (8, 6, 11, 29). His ability to body one of the state's best DB's in Zach Floyd was impressive.
Marcus Greaves Sr. ATH Crook County – Greaves had 5 total Tds in Crook County's 60-52 victory over Madras; 1 rush Td (26), 2 receiving (20, 13), 2 kick returns for Tds (85,90). Incredible #s in an outstanding game.
Central Catholic Defense – The Central Catholic D went on lock down mode, and made the Crusaders look terrible. It was a team performance and the Rams beat one of the nation's top ranked teams.
Riley Rediger/Cade Smith Sr. WR, So. QB West Salem – Titans receiver Rediger had a monster 4th quarter, helping the Titans beat the # 8 Olys at home in what could be for the conference title. He accounted for 154 yards receiving on 5 receptions, with two clutch 4th quarter Tds (44, 41) from elite Soph QB Cade Smith. Smith accounted for 256 yards passing going 14-19 and two Td's. He also ran for a score in a clutch league win.
Chance Taylor/Anthony Hotchkins Sr. WR/S Jr. FB/DE Tigard – Taylor has been lights out so far this season catching almost everything Jett Even has thrown. Last night he added 3 receptions for 117 yards and a Td, while Anthony Hotchkins continues to show he is one of the state's top juniors on both sides of the ball.
Richard Ramsey Sr. RB Milwaukie – The senior transfer from Jeff got his turn to ball out going for 4 Tds (1,7, 11, 61) in a 55-10 win against Liberty.. This coming a week after Kendrick Bourne went for 5.
Jordan Morgan/AJ Woodin Jr. WR Jr. QB Southridge – The State's top ranked junior WR added 2 more receiving Tds (59, 7), while Jr QB Woodin threw 3 against one of the region's top defenses in there 28-21 loss to Lake O
Tanner Shipley Sr. RB Wilsonville – High profile D1 WR Shipley plays RB for the Cats and went for another 234 yards and 17 carries with 2 Tds.. The Cats beat a decent Putnam team 51-14 in their most impressive win of the year.
Connor Strahm Sr. ATH Sheldon – NEI favorite and SWC returning Conference POY Strahm added 4 more Tds in a half (2 receiving, 1 rush, 69 yd punt return) as the Irish continued to roll beating N.Medford 55-0.
Devin Ceciliani Sr. WR Madras – One of NEI's top ranked senior WR's had a 5 TD night scoring every which way for Madras in their 60-52 loss.. Ceciliani went for 1 Kick Return (90), receiving (65, 33), rushing (16, 14)
Jake Weddle Sr. WR Glencoe – The senior WR scored 2 more Td's (30, 53) and is having a breakout year thus far for a much improved Crimson Tide team. He finished with 6 receptions for 105 yards receiving.
Jordan Horak Jr. S Lake Oswego 2 Ints – One of the NW's top ranked junior DB's made 2 Int's in a half, and helped the Lakers beat a tough Southridge team 28-21 on the road.
Gresham Gophers – How good are the Gresham Gophers? There wins (4-0) have come against Lincoln, Westview, Wilson, and McNary in what have become more impressive victories as the season has played out.
Cory Hincks Sr. RB Wilson – The Wilson RB made a statement handling a pretty good Roosevelt team while rushing for 369 yards and 5 Tds in the Trojans 47-21 win, in what could amount to the deciding game in the 5a PIL race.