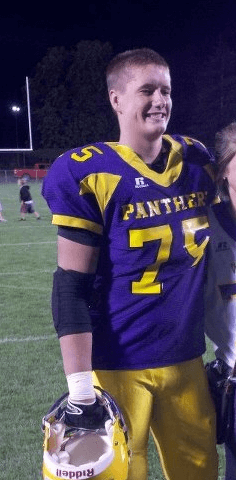 Get used to the name Trey Adams (6-6 245 So. OL/DL), as he is going to be the next big high profile line recruit in the State of Washington. He's only a sophomore, and he already possesses some of those unteachable characteristics that you look for in a franchise player. As much as any school state wide we are huge fans of the Wenatchee Panthers. The coaches, kids , parents, and everyone in between have been phenomenal to work with. Adams is part of an extremely athletic family, with his father Bud Adams playing professional baseball in the Kansas City Royals organization, and basketball at Georgia Tech. His older sister Christie has been a player of the year type athlete in Volleyball and Track.
The Panthers have 6-9 monster Cody O'Connell headed to Washington St on the offensive line, who has been a mentor to Adams. Unfortunately O'Connell went down this week with an injury, so Adams will really have to step up and play beyond his years if the Panthers want to make a run.
Trey is a multi sport athlete that played Varsity baseball as a freshman, and is an imposing figure on the mound especially within his own class. He plays first base and pitches for the Panthers and loves the sport of baseball. That said, he will be ranked as one of the region's top lineman for his class, and looks like a big time D1 recruit even with it being early.

Adams is in the same class as talented LB Cy Sirmon (6-2 200 So. LB) who most know by last name all over the northwest. He is the son of former D1 D End John Sirmon, and nephew of current Husky Coach and Super Bowl linebacker Peter Sirmon. You don't get better people then these, as this is just another family within the program that we think very highly of.
Adams attended the NEI/Barton Events during the off season, and the UW Showcase where he showed off unique ability for a youngster. The thing that's separates Adams from other lineman is how athletic he is for a sophomore. Training with Taylor Barton last weekend in Seattle, Wenatchee quarterback and super athlete Dillon Sugg (6-5 215 Jr.) said, " Trey is going to be the real deal, he's already playing well beyond his years and learning at a very fast pace". Sugg is ranked our Co #1 QB for the class of 2014 in the State of Washington, and we expect him and all everything athlete Isaiah Brandt-Sims (6-0 175 Jr. Slot) to be two other big time D1 kids moving forward.
Trey's a good student sporting a 3.5 GPA, and when referencing this season he says, " We've lost a couple close ball games, but we are from done". He continued, " We have some great lineman and I have been learning from all of them especially Cody who I get to go against every day at practice".
Speaking with Cody prior to Friday nights game he says, " Trey is learning everyday and will be a big time prospect… If he continues to work like he does, and gets his technique down he's going to be very good". We wish Cody a speedy recovery as he is a gentle giant off the field, and a guy you don't want to mess with on it.
Trey has a very bright future and we are looking forward to seeing him at our Elite Events, and on the NEI/Barton Football Camp and Combine Tour during the off season. He's a class kid and another legit athlete out of Wenatchee.