*This list is a way to showcase this weeks top performances. I am sure I missed a few and would like to know the ones I did. You can either comment on here or send me an email at Ringerland@gmail.com.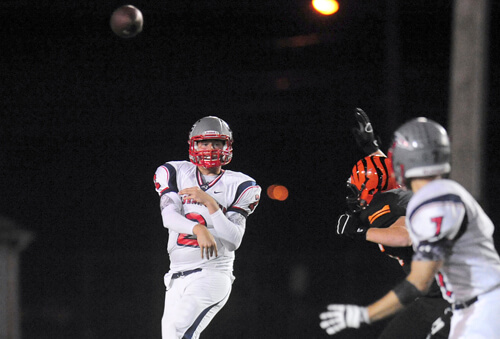 Kolney Cassel, Sr. QB Eisenhower – S.M.U. bound Cassel completed 20 of 25 passes for 405 yards and 5 TDs in the Cadets 56-10 win over Centalia. Cassel is capable of being on this list every week as he consistently puts up 350+ yards a game.
Ridge Harmon, Jr. WR Eisenhower – Harmon, who we have ranked as our #3 2014 ATH, caught 10 balls for 207 yards and 2 TDs. Harmon and Cass el c ontinue to be one of the most consistent pass-catch combos in the state.
Danny Wilson, Sr. RB Bothell – The Cougars finally got into the win column by beating Eastlake 33-6. Bothell rode the back of Wilson to the tune of 247 rushing and 3 TDs. This is a big win for the Cougars who are very much capable of winning the KingCo Crest Division and going deep into the playoffs.
Ralph Kinne, Sr. RB Shelton – It wouldn't be an Elite Performers list without our weekly Ralph Kinne update… This week he made the Yelm defense look silly while rushing for 274 yards on 27 carries and 4 TDs. The Highclimbers beat the Tornadoes 38-14 in a game featuring two unbeaten teams. Kinnie now has 1,170 yards through only 4 games.
Mario Gobbato, Sr. RB Blaine – Another huge week for Gobbato as he rushed for 301 yards on 30 carries and 3 TDs in the Borderites 36-28 win over Bellingham. Gobbato now has 1,008 yards through 4 games.
Ryan Fassler, Sr. QB Prosser – Fassler went 24 of 31 for 311 yards and 5 TDs as the Mustands blasted Toppenish 61-0. This was a big bounce back game for the Mustangs after last weeks loss to Othello.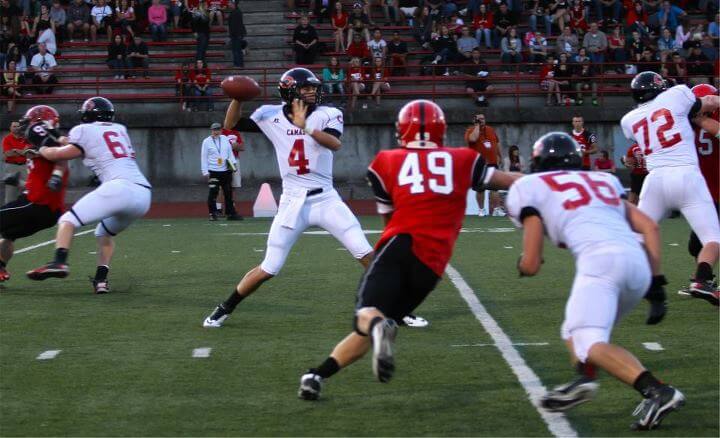 Reilly Hennessey, Jr. QB Camas – The Papermakers are really rolling at 4-0 and head into a HUGE league game against Skyview. Against Lakes, he completed 15-29 for 316 yards and 2 TDs. He also had 1 rushing TD as Camas routed Lakes 53-14.
Jordon Hoorn, Sr. LB/Austin Joyner, So. RB Marysville-Pilchuck – Hoorn led the defense with 18 tackles in the Tomahawks 42-13 win over Shorewood. Joyner did a little bit of everything with 11 carries for 218 yards and 4 TDs, 3 receptions for 33 yards and he also had INTs on defense.
Devante Harris, Sr. Tenino – A name we are starting to see every week, Harris again put up impressive numbers this week in helping the Beavers to a 28-12 win over Forks. He finished the day with 233 yards on 14 catches and 2 TDs. Tenino is now 4-0 on the season.
Nolan Hoiness, Sr. RB Hoqiuam – Hoiness is a kid doing big things out by the coast. This week he finished with 146 yards on only 6 carries… He also had 3 TDs. He added another 44 yards with 2 catches and also had another TD as the Grizzlies stayed undefeated with a 54-7 win over Rochester.
Hank Hilts, Sr. RB Ferndale – Burlington-Edison was looking for a statement win, but it was Hilts who made a statement. The brusing Hilts finished the night with 196 yards on 24 carries and 4 TDs in the Eagles 55-14 win.
Austin Hall, Jr. RB Kamiak – Hall had TD runs of 44, 12 and 18 in the Knights 35-14 win over the Lynnwood Royals. The junior finished the night with 194 yards on 26 carries.
Justin Pruett, Sr. QB/Kyle Redmond, Sr. WR Bellingham – Pruett finished the night 21 of 41 for 320 yards and 3 TDs and also rused for 67 yards on 4 carries and a TD. 189 yards, 7 receptions and 2 of those TDs were to Kyle Redmond, but it wasn't enough as the Red Raiders fell to 0-4 in a loss to Blaine.

Loren Standiford, Jr. QB/Tim Hergert, Sr. WR Heritage – Standiford continued to impress as he threw for 328 yards and 5 TDs in a 34-33 win over Decatur. His favorite target was Hergert who finished the day with 6 catches for 168 yards and 3 TDs.
Sefo Liufau, Sr. QB Bellarmine Prep – In the Lions 31-12 over South Kitsap, Colorado commit Liufau looked every bit the D1 part going 20 for 28 with 314 yards passing and 4 TDs
Spencer Crump, Sr. RB Timberline – In the Blazers 48-20 win over Wilson, Crump rushed 17 times for 190 yards on 4 TD's.
Billy Green, Sr. QB King's – Could be considered a bit of a down night for BYU commit, but 19 for 25 and 256 yards passing and 5 TDs will get him on this list. The Knights are now 4-0 and my #1 ranked 1A team.
Adam Hinthorne, Jr. QB Lakeside (Seattle) – The Lions QB broke school records this when he passed for 354 yards and 6 TDs (both school records). He was 19 of 32 passing in a 56-28 win over Renton. He also had an INT on defense, his 6th of the young season.
Dan Verzuh, Sr. FB Lakeside (Seattle) – Catching 5 passes for 108 yards and 3 TDs, 3 rushes for 58 yards and 1 TD could be considered worthy of being ELITE. Verzuh makes this list because he was also a perfect 6 for 6 on PAT attempts. I love kids that can play multiple positions.