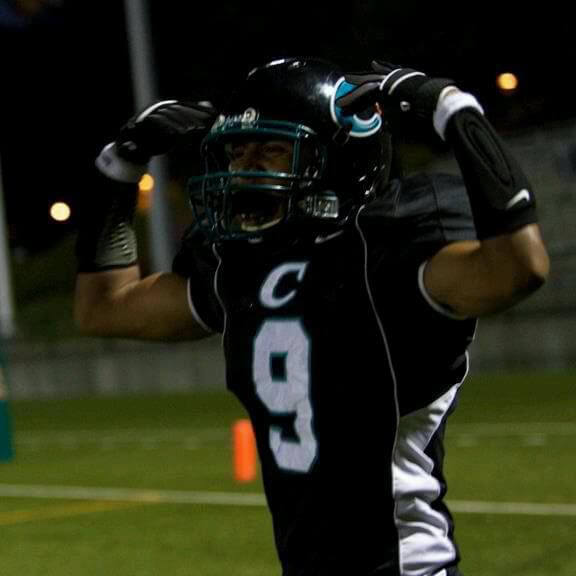 I knew Xavier Mitchell (6-1 170 Sr. WR) and Sam Riddle (6-2 200 Sr. QB) were both good, but I left the Century/Tigard game shaking my head after witnessing to what extent both athletes had performed. In what amounted to the biggest game in school history, #7 Century fell short 46-36 to an extremely talented #5 Tigard team.
That said, it was an outstanding ball game where both teams proved they were two of the state's best. Mitchell went off catching 8 passes for 115 yards and 4 Tds against some of the best defensive backs in Oregon. Riddle came into the contest with 16 Tds and 0 Int's on the season, and looked phenomenal throwing 4 more touchdown passes while getting picked twice. He now sits with 20 Tds and 2 Int's on the season.
The best thing about this Century team is that they are just good kids. They have played together since youth ball and there is a common bond that will forever be in place, well after the season is done. All of them participated in our Elite Events during the winter and showed the work ethic needed to compete at the college level.
Mitchell has climbed our rankings board quickly jumping up four spots to #5 in the State of Oregon among wide receivers. The top three WR's already have D1 offers and Xavier is that next kid right on the bubble. He was a Unanimous first team all league WR as a junior, after catching 37 passes for 778 yards and 10 Tds in 2011.
This season he is a state leader in multiple categories, hauling in 25 receptions for 441 yards and 10 Tds. His 17.6 yards per catch average shows what he is capable of. Xavier says, " Our team goals include not losing another league game, and making a deep run in the playoffs". He continued, " I want to be the #1 receiver in the state, while adding some muscle and keeping my routes crisp". Xavier represents the team well sporting a 3.7 GPA , and doing work with multiple clubs within the school (DECA, Jag- Crew Leadership Program, St. Bladricks Foundation)
Mitchell used his body on Friday night to out maneuver and out jump multiple defenders time and time again. It's those specific attributes that separate him from other very talented kids playing the same position. Riddle says, " Zay (Xavier) is very hard working and determined to be the best, he has that swagger that no one can stop him". He continued, " I can say the same for all three of my receivers (Brad Bennett, Vance Hamilton) I know where they are at all times, and that's why we are putting up the numbers that we are". It didn't hurt that Riddle was flat out nasty, and pinpointed most throws so they could only be caught by the wide out.
We take our player rankings at NEI very seriously, as it is used by colleges all over the country. We never usually make adjustments based on one game, but after Friday Riddle proved to me that he was the best senior QB in the State of Oregon with everything considered. His ability to get out of sticky situations with his overall athleticism was the icing on the cake. He wasn't perfect, but his overall ability combined with his leadership qualities were a statement felt all over the field Friday night. There's not a lot the kid can't do, and he has legitimate size to go with it.
Century Head Coach Bill Smith has done an outstanding job with his athletes, putting them in a position to grow with one another and achieve a high level of success. We wish all of the Century kids continued prosperity, and look forward to bringing you updates for the remainder of the 2012 season and beyond.