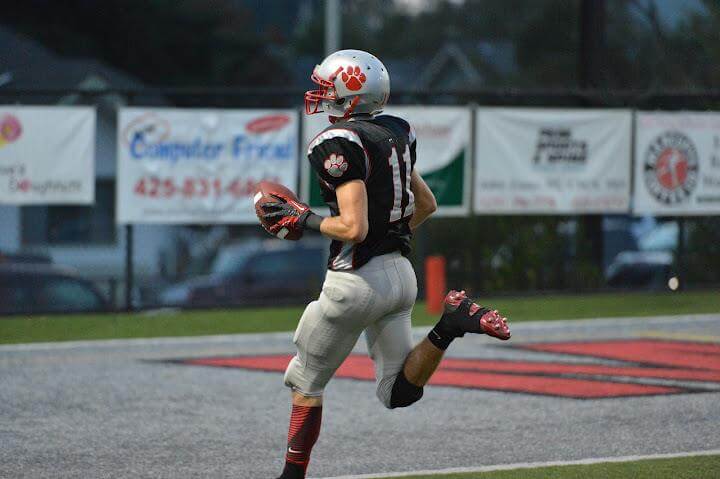 Maybe the top dual sport athlete in the northwest, that some people might not know about is Trent Riley (6-2 190 Sr. WR/S) of Mt Si. Riley missed last football season due to injury, after a sophomore season that saw him earn second team all KingCo honors after catching 26 passes for 515 yards and 7 Tds. He started both ways and intercepted two passes during the 2010 season as well.
When people reference Trent, many people speak of his exceptional basketball skills. Its not a secret he is one of the top hoopers in the state, as he will be a 4 year Varsity player that earned second team all league honors as a sophomore on the hardwood. He was the Sophomore MVP and Defensive Player of the Year for his team, and plays for Friends of Hoop Seattle, a top AAU squad nationwide.
Riley is a phenomenal overall athlete and projects at the D1 level in both sports. What he has done on the football field this season has been eye opening. Its not just his stats, but his overall domination of opponents. For anybody wanting confirmation feel free to check out his highlights, as he has accumulated 327 yards receiving and 6 Tds, on 15 catches through 4 games.
As a safety he is equally good patrolling what many consider the best secondary in Washington.Thus far he has accounted for 14.5 tackles and a pick to the house. Colleges will love the fact that the kid can play multiple positions, and is the typically the best at whatever he does. Very few people in the northwest, project on both sides of the ball at the D1 level but Riley is an exception.
He is considered as of right now one of the top recruits within the region without an offer, and his stock is only rising. He can return kicks, punts, change the game as a safety or out jump almost anyone at receiver. Pretty nice options for whichever school lands Riley.
Trent says, " We want to win the conference and state title, and personally I want to earn first team all league and all state honors on both sides of the ball". That would be a pretty far fetched goal for most athletes but not so much here. Riley adds, " ultimately I want to play D1 basketball or football, I can except losing but will never except not giving it your all".
This kind of sums up Trent's thought process moving forward as the kids a winner on all fronts. If he would have been able to play his junior season, he would have multiple offers right now. That said it is what is, and you can't teach 6-2 and extremely athletic. Riley will find a home at the D1 level, as his film speaks for itself.

Winning a 3a state title on the football field would obviously be a dream come true, and right now the state's #2 ranked team is in a position to challenge one of the nation's best in Bellevue. Its obviously a monumental task, but from what we have seen Mt Si is by far and away the top contender state wide.
We wish Trent Riley and all of the other Wildcat athletes continued success. Its a class program with unlimited potential, and we look forward to seeing how 2012 unfolds.