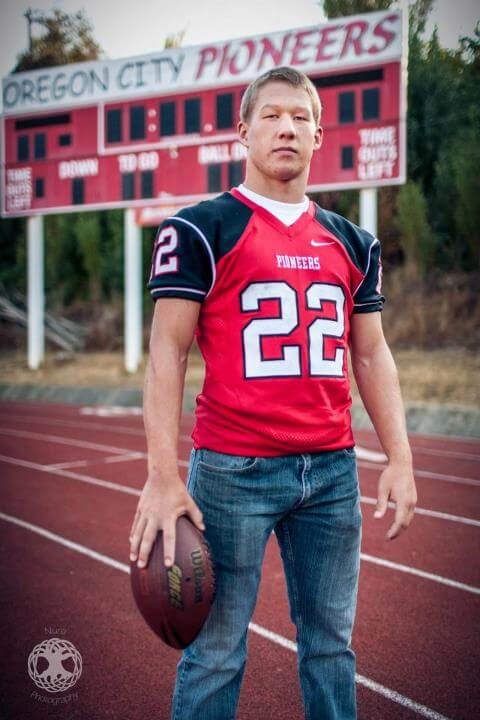 | | | | |
| --- | --- | --- | --- |
| Opponent | Carries | Yards | TDs |
| Camas (WA) | 20 | 145 | 2 |
| Crater | 34 | 220 | 2 |
| David Douglas | 37 | 275 | 3 |
| Lakeridge | 29 | 329 | 4 |
| TOTAL | 120 | 971 | 11 |
If there is one kid in Oregon tearing up the state, that many people don't know about yet, its Mitch Thompson (5-8 170 Sr. RB) of Oregon City. The powerful, speedy back has absolutely torched the state averaging 242.7 yards a game, with 11 Tds. Thompson earned second team all league honors as a junior, only playing 6 games due to a leg injury. He split time with senior Luis Wolf and ended up gaining 777 yards with 4 Tds, on 116 carries.
These numbers alone were enough to raise eye brows coming into this season, but the big question remained who could replace the all everything duo of Landon Martinez and Trevor Dye. OC had a stellar run into the state quarterfinals in 2011, and I would be the first to admit I didn't have the Pioneers going far without some of the senior's from last season. After last weeks pasting of a good Lakeridge team 59-23 , my thoughts have changed.
Thompson is just a very talented kid. His 450 squat and 280 clean speak to his power, while his 265 bench and 225 incline allow him to stiff arm well on anyone trying to form up. Its extremely tough for bigger lineman and backers to get a hold of the of the 5-8 powerhouse, as he's just extremely elusive.
In OC's first game of the season, second year Head Coach Kevin Strasser went to the air against Camas, one of the top teams in Washington. The Pioneers had five starters return on O, and 10 new starters on D, but Strasser has done an amazing job and kept everything in check. When the passing attack wasn't working in week 1, the Pioneers went to what is now their primary resource and haven't looked back.
Oregon City sits at (3-1) with their only loss coming to the #4 ranked team in Washington. As of right now Thompson is the leading candidate for Offensive Player of the Year in the Three Rivers Conference. He's a a humble kid, and insisted that none of this would be possible without his senior dominated line and the rest of his teammates.
Mitch says, "I owe a huge part of this success to our O-line, consisting of returning all league left guard Jacob Hagler, left tackle Josh Miller , center Trevor Wolf, right guard Mason Kloer, and right tackle Austin Phanavoung". He continued, "The average size of our offensive line is 245 lbs and I couldn't do any of this without them".
Thompson carries a 3.7 GPA, is part of the national honor society and is just an overall good kid. Last week against Lakeridge he went for 329 yards and 4 Tds on 29 carries, in 3 quarters. His ridiculous stats put him in the conversation with the top players in the State of Oregon, and he is showing no signs of letting up.
We look forward to keeping tabs on Thompson and all of the OC players, as Coach Strasser has breathed new life into a program that was down and out for the better part of a decade. The kids a baller and just getting better.