*This game is being featured as a Game Of The Week and you can find the online broadcast at WIAANetwork.com . When the game ends it will be archived and available to view within the hour. This is a free service presented by PlayOn! Sports.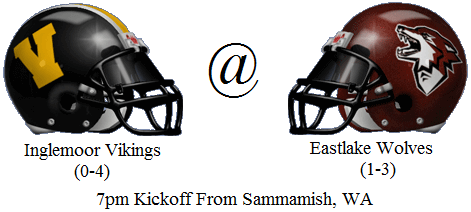 QB
Advantage: Even
As part of last weeks preview I said the Vikings like to go with two QBs and they did just that. Sr's Hans Fortune (6-6 200) and Brandon Edwards (6-1 170) split time in the pistol. Fortune is more of the pass of the two, but Edwards is very capable. Last week against Bothell, the Wolves went with So. Richard "Blue" Thomas (5-11 185) and I will say that I was impressed. Thomas is very athletic and does have a good arm. Having seen both teams play last weekend I got a good feeling for both teams QB situation and making this even was very tough. Hans Fortune is a QB I really like, but Inglemoor is really struggling right now. Add in the uncertainty with the Edwards getting lots of playing time and it brings me to making this position a draw.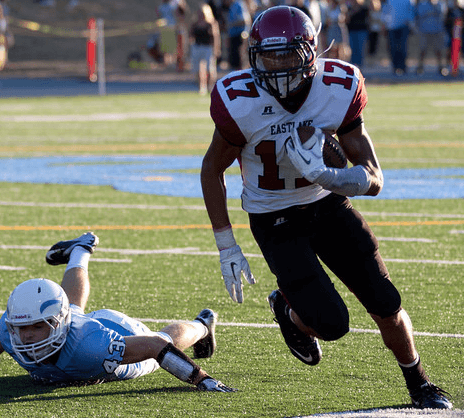 RB
Advantage: Eastlake
Don't get me wrong, I really like the two backs at Inglemoor in Sr's Jake Jones (5-9 200) and Nick Russell (5-9 165). The Eastlake Wolves feature a top 3 Jr RB named Drew Lewis (6-1 190) and a bruising FB in Jr Carson Iraola (5-9 200). Jones and Russell are both good runners, but Drew Lewis is one of the best backs in the state for his class. Lewis has an all-around ability that not many high school backs can match. He has speed and doesn't shy away from contact. Last week against Bothell, Lewis was one of the few bright spots on offense as the Wolves struggled against an inspired Cougar defense.
WR/TE
Advantage: Even

Another position where I really like what both teams have. The Wolves have some good size in Sr's Tyler Ackerman (TE, 6-3 210) and Cameron Nelson (WR, 6-2 175) and also feature playmaking Sr Jordan Flynn (5-11 170). The Vikings have some definite size with TE Jackson Gardiner (So, 6-5 220) and Erik Strathy (Sr, 6-5 185). The Wolves are just better here. Strathy might be the best WR mentioned, but the next three go to Eastlake. I expect this group to have a big day this week.
OL
Advantage: Eastlake
I really like the athleticism of the Eastlake offensive line. All 5 guys have the ability to move and are physical players. Jake Cusack (Sr, 6-3 240) is the biggest, and only senior, of the lineman and even he moves well. The rest of the line is rounded out with Jr's in Joe Ellis (6-0 205), Cody Sheffels (6-2 230), Brandon Kaufman (5-11 215) and Max Escarda (6-3 205). This Vikings have one of the top lineman in the state with Sr. Titus Makasini (6-5 265). They are a senior laden group with Syrus Le (6-2 225), Josh Koukal (6-2 208) and Troy Moens (5-11 195).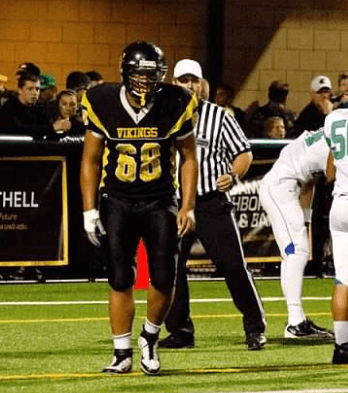 DL
Advantage: Even
I really like what the Vikings have here, but can't give them the edge because I really like the overall play of the Eastlake from 7. Jackson Gardner and Josh Koukal are both outstanding two way players and Cam Miller (5-11 200) add to a strong front 3. Two players to watch for the Wolves are Brandon Kaufman and Eric Harper (Sr. 6-1 190).
LB
Advantage: Eastlake
While I do like what Inglemoor brings, I just can't see giving them an advantage or even a tie until they get Sr MLB Mikey Tupou (6-2 237) back from injury. Eastlake comes with 2 Sr's on the outside at LB with Josh Horton (5-9 185) and Troy Marxen (6-0 190) who are both very athletic and have the ability to run down most skill players. In the middle Eastlake has two Jr's, Carson Iraola and Lucas Henkel (5-10 185) who are also fast. Iraola brings a little more of the run stuffer type mentality to the LB's that the other three tend to lack.
DB
Advantage: Eastlake (Slight)
I hate to think that one player can really make or break a position, but Drew Lewis does just that. The kid is a flat out stud. The 3 other Wolves are Cameron Nelson, Liam Doyle (Sr, 5-8 170) and Jeff Feinglas (So, 5-11 170). Eastlake is again very athletic at this position. Nelson is a big physical player that I would imagine will spend most of the night matching up against Strathy. For the Vikings it is a 3 man secondary with Sr leader Jake Jones flying around playing safety, while Jr. John Gardner (6-2 175) and So. Isaiah Lewis (5-11 170).
Outlook
I have played this game in my head about 20 different times and just can't see a scenario where Inglemoor wins. They are really struggling in just about every aspect of the game. Coach Frank Naish is one of the all-time greats in our state and might not have an answer for what is going on right now. The Wolves are a very good team that looked as though they had gotten a breath of fresh air when interim head coach Pat Parnell took over. Even in losing last week against Bothell, they really did not look all that bad. I think Eastlake is a team that is ready to break out.
Prediction
Eastlake 33 – Inglemoor 17