*This game is being featured as a Game Of The Week and you can find the online broadcast at WIAANetwork.com . When the game ends it will be archived and available to view within the hour. This is a free service presented by PlayOn! Sports.
#6 Skyview Storm (3-1) @ #4 Camas Papermakers (4-0)
7pm Kickoff From Doc Harris Stadium In Camas, WA
Camas Papermakers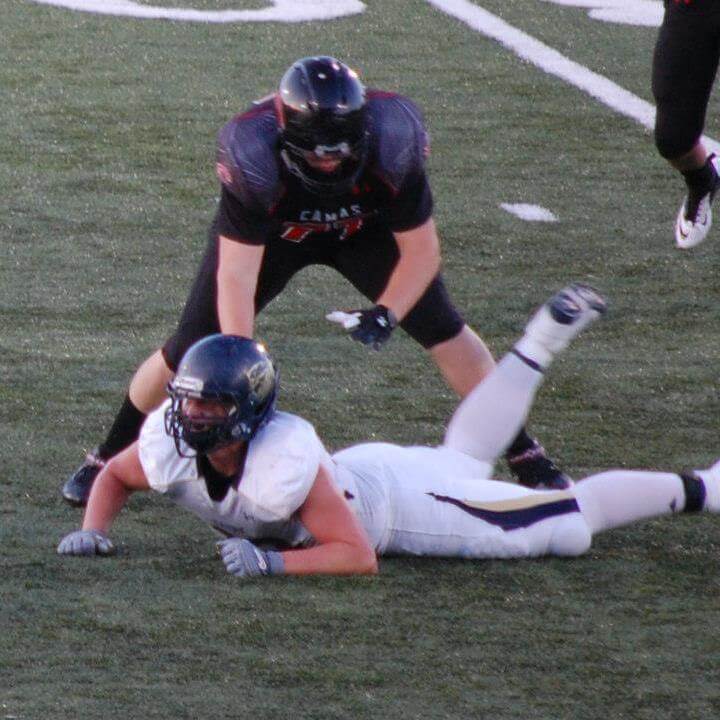 QB
Reilly Hennessey 6-3 185 Jr.
Hennessey is ranked as one of our top junior QB's in the state of Washington. He has a huge upside, and a legit frame where if he continues to improve mechanically he could do very well for himself at the college level. Thus far he is 66-108 for 1178 yards, with 9 Tds/1 Int. Reiley is definitely playing beyond his years.
RB
Nate Beasley 5-11 175 Jr.
Vincente Huber 5-11 195 Sr.
Jason Vailea (FB) 6-2 235 Jr.
John Norcross (FB) 6-2 225 Sr.
One of the top junior RB's in the state. Runs hard and is very effective catching the ball out of the backfield. Has 12 total tds (8 rushing, 4 receiving). Has accumulated 529 all purpose yards (297 rushing, 232 receiving) on 53 carries and 9 receptions. Huber has good speed and has found the end zone on multiple occasions, while the Papermaker fullbacks blow people up all day if given the opportunity.
WR
Zach Eagle 5-9 170 Jr.
Connor Maloney 6-1 180 Sr.
Jack Beall 6-2 175 Sr.
Cole Roberts 5-8 155 Jr.
Dustin Krecklow 6-1 175 Jr.
James Price 6-1 175 Jr.
Hennessey has been able to find a mixture of targets through the air and out of the backfield with Beasley. Zach Eagle is the real deal and is a threat any time he gets the ball. Maloney and Beall have both gotten in the end zone as of late and are good size targets for the talented Jr QB to throw to.
OL
Drew Clarkson 6-4 275 Jr.
Chris Durrett 6-2 270 Jr.
Alex Walker 6-2 230 So.
Nick Langer 6-4 200 Sr.
Matt Walser 6-2 260 Jr.
Troy Patterson 6-1 215 Sr.
Chase Lea 5-8 210 Sr.
The Camas O line has done a phenomenal job thus far creating time for Hennessey. Its not the biggest group in the world, but they are very effective and play to their strengths. Beasley doesn't have to go between the tackles all the time so as long as they stay athletic and healthy they will be good. It will be very interesting to see how they handle a good sized Skyview front. Clarkson has been awesome and has been one of the better lineman in Washington.
DL
Chris Durrett 6-2 270 Jr.
Jason Vailea 6-2 235 Jr.
Luke Minder 6-2 230 Sr.
Alex Walker 6-2 230 So.
Thomas Hudson 5-9 205 Jr.
The Papermaker line has been pretty dominant as they have two of the top junior lineman in the state of Washington leading it. Durrett is ranked in the top 10 among junior lineman, and is a beast inside. He projects at the D1 level and creates match up problems all over the place. Vailea is more of an athletic strong man, with a LB body. He has a non stop motor and was a second team all league DL last season.
LB
John Norcross 6-2 225 Sr.
Nick Gadbaw 6-1 205 Sr.
Michael Digenova 6-2 210 Sr.
Colton Dowd 6-2 205 Sr.
Troy Patterson 6-1 215 Sr.
Austin Kaphammer 5-10 190 Jr.
Young Ethar 5-8 165 Jr.
Norcross is a beast and extremely underrated on a state wide level. He was a first team all league backer and the conference defensive player of the year as a junior. He provides the Papermakers much needed experience in the middle which has only helped better the play of his teammates. Gadbaw has been playing well, and Digenova did a very good job last week. The Camas backers have legit size and fly to the ball, making this one of the top defenses in the state of Washington.
DB
Zach Eagle 5-9 170 Jr.
Connor Maloney 6-1 180 Sr.
Michael Johnson 6-0 170 Jr.
Dustin Krecklow 6-1 175 Jr.
Stephen Jesmer 5-9 165 So.
Eagle is everywhere and one of the most talented two way athletes in the state. He has multiple picks on the season and should be considered one of the most dangerous kids on the field whether its O or D. Maloney and Johnson have both stepped up as of late and done a great job locking it down for the Papermakers.
Skyview Storm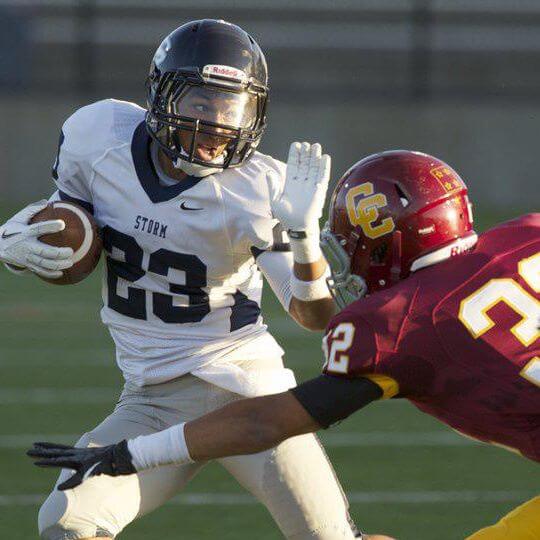 QB
Jordan Berni 5-11 170 Sr.
Berni is a first year starter, but has a ton of experience as the leader of this class growing up. The players trust in him and vice versa, so the lossof Kieran McDonaugh has been big, but not unmanageable. Jordan is 64/101 with 854 yards passing and 6 Tds. He has only been picked twice so he is fairly accurate with his targets.
RB
Jabari Marshall 6-2 210 Sr.
Kalvin Johnson 5-10 185 Sr.
Marshall has been the back they have needed within the red zone and then some. His 11 Tds make him one of the state leaders in that category, while averaging 6 yards per carry. Marshall is an outstanding LB, athletic enough to play RB and do a very good job. Johnson has gotten reps as well, and done a pretty good job.
WR
Forrest Russell 5-7 155 Sr.
Jacob Dennis 5-9 155 Jr.
Daniel Thompson 5-10 160 Sr.
Tony Sparrow 5-11 170 Sr.
Spencer Miles 5-10 170 Sr.
The Storm receivers can all play, as proven by their state title run a year ago. Russell is the go to guy and one of the best receivers in the state. He is undersized, but extremely elusive and someone we think very highly of. He went for 800+ yards a year ago, with 9 Tds and has accounted for 18 receptions for 216 yards in 2012. Thompson is an outstanding athlete that is very capable, while junior Dennis isn't big but can also get the job done. Expect Sparrow to play a role, and for Spencer Miles to potentially return this week.
TE
Anthony Chamberlain 6-3 250 Sr.
Chamberlain is a converted lineman that is big and very valuable, as he is able to catch and block. He's got legit size and experience as a starter on last years state title runner up.
OL
Willie Lopez 6-5 250 Sr.
Zach Wallace 6-4 305 Sr.
Matt Matteo (c) 6-2 255 Sr.
Grant Vargo 6-1 245 Sr.
Garrett Lawler 6-3 215 Jr.
The Skyview line is legit where Zach Wallace returns as the big body up front, with Willie Lopez playing out of his mind on both sides of the ball. The Storm will need to use their size to their advantage as the senior dominated crew has played well over the last three weeks. Matteo provides a big body in the middle, as they will most likely try to get an advantage up front to open up the passing game.
DL
Willie Lopez 6-5 250 Sr.
Willie Eteaki 6-1 310 Jr.
Rayshawn Wess 6-2 230 Sr.
Grant Vargo 6-1 245 Sr.
Rayshawn Wess has been a kid that has had an outstanding season, and is extremely physical coming off the end. More then any other kid he has been able to get consistent pressure on the quarterback all season long. Lopez is a big body and does well, while Vargo plays both ways and has been key. Eteaki is the transfer from Southridge in (Beaverton , OR) who started as a freshman and has been a huge asset to the Storm. He is incredibly strong and mobile for his size and gives plenty of matchup problems to defenders.
LB
Jabari Marshall 6-2 210 Sr.
Xavier Norman 6-0 190 Sr.
Tristan McGarrah 6-2 220 Jr.
Gianni Carbone 6-1 210 Jr.
Marshall is an all league returner, and someone that is just getting better. He projects as a D1 backer and is the leader of the group. Norman provides legit experience, and McGarrah is a junior we really like that's on the rise. Carbone is ranked as one of our top junior backers state wide after transferring to Skyview this past season, but will be out for this contest due to injury.
DB
Forrest Russell 5-7 155 Sr.
Gage Stumpf 5-9 145 Jr.
Kris Quintanilla 5-10 175 Sr.
Tony Sparrow 5-11 170 Sr.
Jacob Dennis 5-9 155 Jr.
Dennis has gone off and has been a top junior state wide, intercepting 4 passes in the first 4 games. The Storm DB's are not big, but do a pretty good job. Sparrow does a good job on both sides of the ball, and Forrest is just a really good overall athlete with hops. They did a very good job against the Lakes receivers, who are some of the most talented in Washington so they feel comfortable at the skill positions.
Advantages
QB – Even
RB – Camas
WR – Even
OL – Skyview- Slight
DL – Camas- Slight
LB – Camas
DB – Even
Outlook
Look for this to be one of the best games of the year in either state, as both teams are extremely talented. Camas is playing as well as anybody in Washington, blasting everyone they have played thus far. The scary thing about the Papermakers is that most of the kids will be returning next season.
Skyview will have the advantage with more senior experience, but Camas is firing on all cylinders. Expect them to mix in a healthy dose of Nathan Beasley on the ground and through the air, as Hennessey has shown that he has the maturity of a veteran QB only 4 games into his junior year. Beasley went for 4 more Tds last week and has been dominant.
That said, Skyview has played really well the last 3 weeks after an opening night loss to one of Oregon's top teams in Central Catholic. The Storm is fresh off a state title appearance in 2011 where they gained some valuable experience in big ball games.The loss of Reiley Henderson prior to the season does make a difference, but this team plays very well together and seems to be on the same page more then most.
I think Jordan Berni will be key to this contest and have to play mistake free football for the Storm to win. Russell we need to have one of the biggest games of his career, if Skyview wants to outscore Camas. Expect John Norcross and the Papermaker LB's to be all over Jabari Marshall, making the Storm passing attack the focal point. In a close one I will take.
Prediction
#4 Camas 35 – #6 Skyview 24