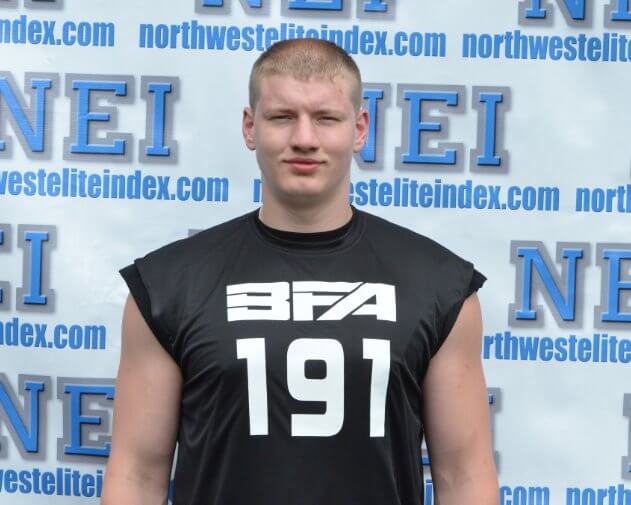 While he became a rising star this past spring and summer with his camp performances, it wasn't until college coaches got a look at what he could do when the pads came on this fall that they decided to start offering Fife (Wa.) OL Kaleb McGary, a top 2014 prospect, and recently Washington became the second school to offer the talented lineman…
McGary was set to play for Battleground High School just outside Vancouver, Washington, but shortly before the start of school his father got a job in Fife so he transferred there and has been a star on both sides of the ball.
With his ideal size and athleticism, McGary has been impressive so far this year and that attracted an offer from Oregon State early on and now Washington has joined the fray.
"I called coach (Steve) Sarkisian and he told me that they had been looking at my film and they were really impressed with what I had to offer," McGary told Dawgman.com. "He said 'we want you to know that we are offering you a scholarship'. I was really happy and excited.
"My family are all Husky fans and I grew up loving the Huskies so it is great to have them after me and liking me enough to offer. I didn't really think about committing because I want to go through the process a little, but Washington is definitely a school that will be at the top for me."
McGary said schools like Oregon, Washington State, California, Utah, Arizona and Boise State are all showing interest as well.
As far as where he projects at the next level, McGary said he's unsure at this point.
"I love to play defense and I don't think that will ever change, but I love playing tight end as well," McGary noted. "I didn't really asking (Washington) where they saw me playing and they never really mentioned it and come to think of it Oregon State really hasn't told me where they see me.
"I'm about 6'7" and 270 pounds, so I'm pretty big for tight end, but if I can stay as quick as I am now and be in the 280 or 290 pound range, then that would be great.
"I am open to playing anywhere though, so if the staff I choose says they want me along the offensive line, I'll do that and give it my best shot."
We will continue to keep in touch with McGary through the end of his junior season and will update news as it happens.