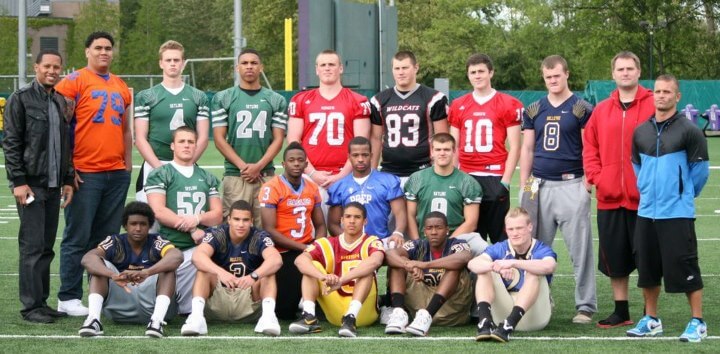 Ryland Spencer Picks
NEI 4A Top 10
1. Skyline (6-0) vs Newport (4-2)
This game will feature two of the top QBs in the state in Skyline's Max Browne (USC commit) and Newport's Isaac Dotson (Nevada commit). The Spartans are #1 in the state and for good reason. They are without a doubt the best team in 4A and should be playing in the T-Dome later in the year. Newport started the season with 2 losses, but have really been playing well as of late. I just don't think the Knights have enough to get by. This is all Sparta, 45-13.
2. Federal Way (6-0) vs Spanaway Lake (3-3)
Spanaway Lake is clearly improved compared to the last few season, but still wont be able to hang with Federal Way. The Eagles are really rolling and honestly shouldn't have much of a problem the rest of the season. Next week will be a decent test against Auburn, but they should still roll. This week is a walk in the park. All F-Dub 55-10.
3. Camas (6-0) @ Union (5-1)
I really like the Union Titans and think they have without a doubt the best band in the state. I kid you now. This band is worth 10 points a game. They never stop playing. I say them at Kentlake last year in the playoffs and you would've thought they were the home team. Not sure why I am talking about a band here, I just feel like it needed to be said. Camas is a legit state championship team. This game features two of the best underclassman QBs in the state in Nolan Henry of Union (2015) and Reilly Hennessey of Camas (2014). Papermaker train keeps on rolling, 34-21.
4. Bellarmine Prep (5-1) vs Yelm (3-3)
The Yelm Tornadoes have hit a huge roadblock since starting the season 3-0. They really haven't been able to offense going and have been giving up close to 40 points per game. Bellarmine is a championship caliber team that hasn't been tested in a while and should have no problem this week. BP roughs up Yelm, 40-7.
5. Gonzaga Prep (6-0) vs Rogers (Spokane) (0-6)
The Rogers Pirates are not a football school. Nobody will argue with that statement. They do have one of the best stories with RB Luke Rogers, but I know he has missed games lately. Gonzaga Prep might be the best team in the GSL and will really have one test the rest of the way with Central Valley in week 9. I think they will finish the regular season undefeated. Bullpups win, 44-6.
6. (tie) Mead (5-1) vs Central Valley (5-1)
The Mead Panthers got back on track last week after a week 5 loss to Gonzaga Prep. Central Valley lost week one to a good Ferris squad in a game played at Eastern Washington University. This could be a very good game. The Panther need Davian Barlow back to be considered a contender in the long run. I still think they win here. Panthers in a tight one, 28-24.
6.(tie) Kentwood (6-0) @ Tahoma (4-2)
The Tahoma Bears have been a slight disappointment this season, yet they still have a shot at winning the SPSL North. If they want to do it, they HAVE to win this week. Kentwood's defense is nasty. LB Chance Kalua-Fuimaono is a absolute stud and should be getting more attention than he is. The Conks are a really good team and the best in the SPSL North. They should win this game. Conks… Uhhh… I guess they conk? 35-14.
8. Bothell (3-3) vs Inglemoor (1-5)
THE SPAGHETTI BOWL! I love what they do here. The fans really embrace this rivalry. It used to be all Inglemoor, but the Vikings have now lost 10 straight to the Cougars. Bothell stumbled early against some VERY good teams, but appear to have the "Blue Train" rolling again. Bothell QB Ross Bowers is really starting to come into his own and I expect it to continue this week. 11 straight for the boys in blue, 38-10.
9. Skyview (4-2) vs Evergreen (2-4)
The Storm have 2 losses on the season and both have come to top 10 teams… Week 1 vs Central Catholic (OR) and week 5 vs Camas. They are a very good team that probably wont lose the rest of the way. QB Jordan Berni and RB Jabari Marshall are two of the more underrated players in the state. They keep the Storm on track for the playoffs, 44-12.
10.Graham Kapowsin (5-1) vs Puyallup (2-4)
The Eagles are back in the top 10 this week and for good reason. They are an explosive team that ran up against a buzzsaw named Federal Way. Kahlil Dawson is a lockdown corner on defense and an almost impossible to catch slot on offense. Get him the ball and watch him run. GK will be in the top 10 a while… Eagles win, 45-21.
NEI 3A Top 10
1. Bellevue (6-0) @ #2 Mount Si (6-0)
I wrote a preview for this game as I will be on the broadcast for the WIAA Network. To view that preview please Click Here
2. Mount Si (6-0) vs #1 Bellevue (6-0)
View above.
3. Meadowdale (6-0) vs Eastlake (2-4)
The Mavericks are coming off barely beating Mountlake Terrace last week and should not overlook the Wolves. Last week we saw a very good Bothell team beat an undefeated Glacier Peak squad, but I don't think Eastlake is on the same level as Bothell. If this game was at Eastlake I could see it being close or possibly in the Wolves favor. Meadowdale wins 34-14.
4. Eastside Catholic (6-0) @ #5 O'Dea (5-1)
This game is for a spot in the Metro League championship. I really don't know what way to go with this. If I worked in Vegas and had to give it a line I would have a hard time setting a line. Both teams have some great playmakers and good coaches. I love Monte Kohler and what he has done at O'Dea, but I am picking against them this time. Eastside Catholic wins a shootout 52-45.
5. O'Dea (5-1) vs #4 Eastside Catholic (6-0)
See above.
6. Shelton (6-0) vs North Thurston (5-1)
The Highclimbers avoided a scare last week with a late TD vs Lincoln while North Thurston dropped a tough one to a VERY good Tumwater team. I hate to say it because I really like Shelton, but I think they are primed for an upset. I don't think it happens this week though. Ralph Kinne is gonna run wild on the Rams. Shelton wins another close one, 40-35.
7. (tie) Marysville-Philchuck (5-1) @ Everett (0-6)
The Tomahawks are back in our rankings and for good measure. Since losing in week 2 to what now appears to be a pretty good Lake Stevens team, they have been absolutely blasting teams. They've given up 29 total points in the 4 weeks since the loss. This week will not change. Austin Joyner is going to go nuts. MP wins easily, 55-0.
7. (tie) Kennedy Catholic (4-1) vs Renton (3-3)
This game will be played Saturday at Highline Stadium in Burien. Kennedy Catholic had a bit of a stumble in their first 6 quarters of the season, but turned it on in the 2nd half against Roosevelt to get the win. They had a week off, then have really played well. I picked against them against Hazen and was gladly wrong. Wont make that mistake this week. Lancers win, 40-14.
9. (tie) Oak Harbor (5-1) @ Marysville-Getchel (3-3)
Until week two, the Chargers had never won a game in school history. Now they have won 3 of 4 and are honestly really looking good for playoffs if they can win this game. Unfortunately that isn't going to happen. Oak Harbor is a very good team that could make a deep playoff run. They have a ton of speed, but tend to bottle things up at times. They have a good QB they need to utilize more, but don't seem to want to do it. They still win this game, 33-17.
9. (tie) Ferndale (6-0) vs Bellingham (0-6)
I really don't know what to think of Ferndale. They have been beating up their opposition, but they are the only 3A team in their conference. Ferndale is traditionally a very good team and that is always good, but doesn't always mean anything. They will hammer the Red Raiders though, 55-10.
Scott Eklund Picks
Kent-Meridian at Auburn (Thursday) – This one won't be close, but I will be on the sidelines and I am very interested in getting a look at Kent-Meridian junior QB Quincy Carter, one of the top multi-purpose athletes in the state, and Auburn senior RB Harold Lee who is having a fantanstic season in person. Auburn's defense has played really well the past few weeks and they will be tasked with bottling up Carter who can make plays with his arm as well as his legs. Auburn 38 – Kent-Meridian 10.
Bellevue at Mount Si
This is the best matchup of the season in either the 3A or the 4A classification. Mount Si is led by junior QB Nick Mitchell who his having an outstanding first season as a start while Bellevue just keeps rolling along with the likes of Washington-bound Sean Constantine and UCLA commit Myles Jack at linebacker who lead a stingy Wolverines defense. The only way I see the Wildcats having a chance in this one is if they can get an early turnover or two. If they can get some early scores, that could definitely get their juggernaut visitors to start thinking a little bit. The problem is, Bellevue plays big in big games and they should be ready to go for this one. Bellevue 35 – Mount Si 20.
Eastside Catholic at O'Dea
After an early season stumble against Issaquah, O'Dea has hit their stride and are rolling behind a running game that is averaging over 250 yards per game and are led by sophomore tailback Myles Gaskins. The Crusaders have some solid playmakers of their own including Washington State-bound Markell Sanders and big players up front in Deion Fetui and Elisha Pa'aga, two underclassmen who are tough to move off the line. This one will be a battle, but I'm giong to take EC even though they are on the road. Eastside Catholic 31 – O'Dea 28.
Camas at Union
This one will be a war. Camas has been rolling people since joining 4A and they steamrolled a very good Skyview squad a couple of weeks ago. Union is loaded with a lot of talented underclassmen, but this will not be their year seeing as the Papermakers are loaded with talented upperclassmen who have a lot of experience. Camas wins this one going away, but Union acquits themselves nicely. Camas 35 – Union 24.
Connell at Royal
This is a matchup of top 1A schools on the east side of the mountains. Royal has used an outstanding passing attack that is averaging over 200 yards per game and a stingy defense that is allowing just 7.8 points per game to get to 6-0 and a top ranking in the 1A classification while Connell, coming off of last year's state championship are 4-2 after two early season losses, but are riding a three-game winning streak heading into this week's matchup. This should be a good one with Royal eeking out a close win. Royal 21 – Connell 17.
North Thurston at Shelton
A great battle in the South Sound will be waged when these two teams meet. Both are in a great position to make the playoffs and the winner of this game will still need to battle Timberline for a league championship. Shelton is undefeated and has a strong running game (394 yards per game) led by RB Ralph Kinne who has 1,704 yards and 14 touchdowns to his name while North Thurston counters with a solid passing game and is 5-1. The Highclimbers are just too tough up front and their power game will overwhelm the neighbors to the south. Shelton 42 – North Thurston 21.
Hanford at Kennewick
Hanford travels about 20 minutes to take on a good Kennewick squad which has very good defense and a lot of senior leadership. Hanford's defense is allowing just under 10 points per game and their only loss is to rival Kamiakin. Kennewick will surprise the Falcons and get a hard-fought victory. Kennewick 24 – Hanford 20.
Ferris at Lewis and Clark
Ferris is 5-1 and they will face what has been an up-and-down LC squad that has alternated winning and losing every other week this season to wind up at 3-3 after six games. Ferris has good senior leadership in the likes of Damon Unland who is a force for the Saxons up front and I believe their defense will win the day as well as the game. Ferris 31 – Lewis and Clark 14.
Enumclaw at Bonney Lake
This one isn't pretty from a record standpoint as both teams show up with 2-4 records, but this one could be very entertaining as Enumclaw has a very good group of underclassmen and Bonney Lake likes to throw it around quite a bit. This one could wind up being a very entertaining game, but in the end, Bonney Lake should come out on top. Bonney Lake 31 – Enumclaw 24.
Eastlake at Meadowdale
This one kicks off at 8 pm on Friday night, so it will be the last game played that night and it should be a good one. The Wolves are led by Drew Lewis at tailback and he should be cause for concern at Meadowdale because in their last game, a close 17-14 win over Mountlake Terrace, the Mavericks struggled to keep junior RB Devante Downs in check. This one will be much closer than many realize and I believe Eastlake stands a good chance of coming out on top, but in the end, Meadowdale's Morgan Masanda and Giavani Shepard will be too much and they will come away with the victory to stay perfect on the season. Meadowdale 28 – Eastlake 24.