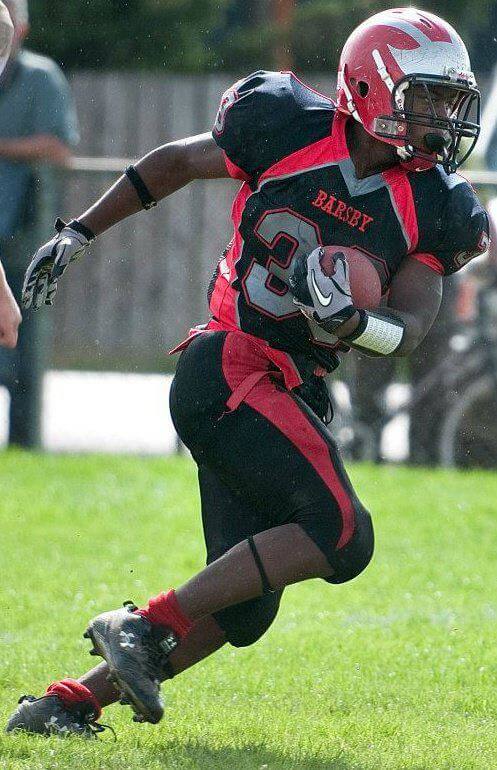 Last year, Sumner (WA) junior RB DeJon Lynch was running wild for the John Barsby Secondary School in Nanaimo, B.C. as a sophomore, but after his father transferred from Bremerton to Sumner, he decided to move south and now is making an impact for the 6-1 Spartans.
"He's such a special talent, I really think people have been sleeping on him because nobody knew about him until he started playing for us last month," Sumner head coach Keith Ross told Northwest Elite Index. "He's everything you want from a talent and size standpoint. He's 6'0, 200 pounds, he runs really well, he's got that quick-twitch athleticism and he's just a great kid overall.
"We are really excited to get him in our system and next year he'll be one of our featured guys. He's totally raw too. He's just really starting to learn the game and how to use his size and speed to his advantage, so his upside is huge."
So far this season, Lynch has totaled nearly 450 yards and six scores on the ground while splitting touches with senior Lokahi Kamau and junior Brandon Tuilaepa.
"Coming down here was different for sure, but it wasn' t that hard," Lynch noted. "Getting used to the speed and athleticism down here was probably the toughest part for me, but I feel like I'm just getting stronger and I'm having a lot of fun."
Lynch, who teammates have dubbed the "Canadian Ghost", runs the 40 in 4.45 seconds and he's a physical runner who runs away from defenders after he gets through the first line of defense.
"He just explodes once he gets in the open field," Ross said. "We ran into some referees after one of our games where he blew past the secondary guys and one of them said to me 'I've been doing this for years and I've never seen a guy that size with that speed'.
"I also think he's got the frame to be 230 by the time he gets to college and when you are that size and you possess his speed and athleticism, he's going to be special if he keeps working at it like he has been."
"I love to work and get better," Lynch added. "I feel like I have a good work-ethic and I love to compete. A big thing for me this next offseason will be getting into the weight room and working on my strength and also getting the playbook down. I didn't show up until about three weeks before our first game, so I'm still sorta learning the playbook. Next year I can be totally familiar with it and that will help me be quicker because I won't have to think as much."
Sumner is poised to win the SPSL 2A championship outright if they can win one of their next two games and Lynch could end up being more of a factor the deeper the Spartans get into the playoffs.
We will continue to keep track of Lynch's progress and we will update news as it happens with him.