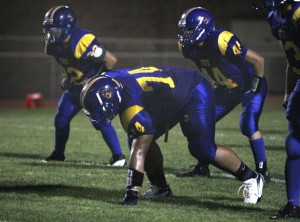 Just last week we profiled TE/DL Kaleb McGary who received his second BCS offer, from Washington, and today we take a look at another Trojan junior, DT Monike Sarte, who is already garnering interest from schools.
Sarte, whose first name is pronounced (moh-NEE-kay), starts both ways for Fife, but he said playing defense is what he loves to do.
"I just love to hit people," Sarte said without a hit of sarcasm in his voice recently. "It's fun to get out there and compete and make plays from my nose tackle spot. Usually I'm double-teamed, so you have to figure out how to use your hands well and get off the ball quickly and your technique is really important as well."
As a 6'1″, 300-pound block of granite along Fife's defensive front-four, Sarte has posted 35 tackles and a sack after posting 54 tackles and two sacks as a sophomore last season.
"My coaches say that I have a good motor and I like to get after it," Sarte noted. "I don't really care about stats though. If I don't make the play, but my teammates do, it's the same to me. I just do what I can to help my team."
This coming weekend, Sarte and the rest of his teammates will take on the impressive ground attack of Sumner, led by the likes of senior Lokahi Kamau and juniors Brandon Tuilaepa and DeJon Lynch.
Because McGary has already garnered offers from two Pac 12 schools, Sarte has attracted attention from schools as well including Washington and Washington State.
"Both of them have come by and talked to my coaches about me and gotten my film," Sarte said. "It's flattering, but you can't rest on that. You always have to work hard to get better every day. That's something that I work for all the time. Getting better."
We will continue to keep track of Sarte as he finishes up his junior season and we will update news on him as it becomes available.