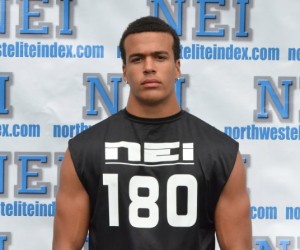 As reported last night on Twitter by Taylor Barton ( @taylorbarton12 ), Johnny Ragin of Wilsonville has picked up yet another offer, this time by the University of Colorado and today by Wyoming. Now Ragin has picked up his 6th offer, the University of Nevada.

Ragin (6-3 215 Sr. RB/LB) is a kid we have gotten to know well over the last couple of seasons. He tested off the charts at the NIKE SPARQ Combine earning himself a spot at the prestigious NIKE Opening. He was named an MVP at the NIKE NFTC in Eugene, and he also MVP'd one of our NEI/Barton Regional Combines this past spring.
To say he had a successful off season would be an understatement. Ragin has been offered by Oregon St, BYU, Portland St and now adding Colorado and Wyoming. He is a 4.0 student and someone that did very well on a national level while at the 7 on 7 tournament as part of NEI-South in Las Vegas. As for the Buffaloes Ragin says " I'm very appreciative of both offers and look forward to taking my visits."
"I talked with Coach Rolovich (Nevada Offensive Coordinator) and Coach Wilson (Nevada Associate Head Coach) last night after they had reviewed my film. They liked what they saw as a staff and decided to offer me this morning". Ragin continued, "Nevada has a great program along with outstanding academics and I am looking forward to getting out there soon for a visit."
Nevada is a school we work with closely and are excited at the increased exposure from the Wolfpack.

Ragin's 8 sacks and 40+ tackles make him a viable NWOC Player of the Year Candidate, and someone we had ranked the #2 defensive player state wide on our "Mid Season Player of the Year Watch".
We are big fans of the Wilsonville program and the Adam Guenther lead Wildcats. Have a look at Ragin and what he has done over the last year, its been an impressive run to say the least.
For all the latest on athletes in the Northwest you can follow NEI on Twitter @NWEliteindex , @JordanJNEI , @RylandNEI
Johnny Ragin HUDL: http://www.hudl.com/athlete/788270/highlights/2170138