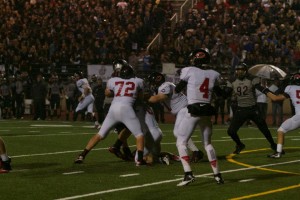 If you haven't been out to Camas for a big game on a Friday night, you need to re arrange your schedule and do so. The Papermakers of Camas pack the house like someone forgot to tell them we are not in the State of Texas. The Crowd at Mckenzie Stadium this past weekend was equally impressive as Camas shut out a talented Union team 22-0.
We currently have Camas ranked the #3 team in the State of Washington, but my vote has them at #2 behind the defending State Champions of Skyline. We have now done two NEI/WIAA broadcast Games of the week, with the Papermakers being featured against Skyview and Union. Both times I came away shaking my head saying wow those kids are good.
The most impressive thing about this Camas squad is that they are very young, and have a defense that plays with a junk yard dog type mentality. Most of the team will be returning next season which makes this group even more intriguing. Head Coach Jon Eagle has done a phenomenal job of preparing his athletes on a week by week basis and they are just getting started. Coach says, " I think these guys really take care of business on and off the field as most of the team maintains honor roll status". Coach Eagle continued, " A lot of the kids have been playing together since the 3rd grade so they know each other well, and do all the little things asked of them to get better".
Offensively the team has multiple threats all over the field. The skill position kids come in ranked some of the best athletes in the State of Washington, with Nate Beasley (5-11 175 Jr. RB/DB), Reilly Hennessey (6-3 185 Jr. QB), Zach Eagle (5-9 170 Jr. ATH/S), and Dylan White (6-6 210 Jr.WR/S) all being ranked at the top of our NEI 2014 rankings board. As you can see all four are junior's which makes the future that much brighter.
The crazy thing about Camas is that they are what people consider a "One horse town". Most of the kids have grown up together, and this group specifically has rarely lost at anything. Hennessey says, " We are so used to playing together that it doesn't really matter who we are going up against, we have all bought into the same system and we believe in each other". Reilly comes in ranked one of our Top junior QB's in the State of Washington and is equally humble. He has thrown 14 Tds/5 Ints, but more importantly is a very talented athlete who can create when in trouble inside the pocket.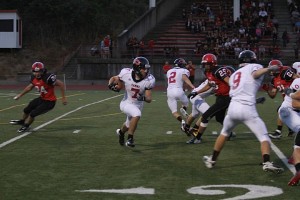 Beasley is one of our favorite Washington backs and ranked towards the top of the junior charts with 15 total Td's on the season (10 rushing, 5 receiving). Both him and Hennessey couldn't say enough good things about the offensive line, lead by Junior standouts Drew Clarkson (6-4 275 Jr. OL), Chris Durrett (6-3 270 Jr. OL), and Matt Walser 6-2 260 Jr. OL) . " All they do is work and keep me protected, I am at a loss for words when speaking to how good they truly are", Reilly said. The Papermakers have four junior's and one senior starting up front (two others: Troy Patterson 6-1 215 Sr. C, Matt Danis 6-2 225 Jr. OL,
This doesn't even take into account one of the most dangerous two way athletes in the state regardless of class in Eagle, and super sick 6-6 talent Dylan White. Every time we see Eagle he is either scoring, breaking up a pass, intercepting a pass, or just creating havoc somewhere on the field. The best way to describe Eagle is a kid that play's like he is 6-2, and is better then most. Growing up in a football family with his father being the head coach, has given him some unique traits that make him super versatile on and off the field. The first thing people talk about when referencing Eagle is how good of a kid he is, not his god given athletic ability.
White had been hurt, but more then looks the part and will enter our WR rankings towards the top of the charts for the 2014 class. He's a multi sport kid and another very talented baseball player that could be a MLB draft choice next season.
Just when you think we have to be done talking about the offense you add in the two big fullbacks in John Norcross (6-2 225 Sr. FB/LB) and Jason Vailea (6-2 235 Jr. FB/DL), who like to set up shop together behind center and just run at people almost not caring that others know where they are running the ball. Add in Vincente Huber (5-11 195 Sr. RB) and you have maybe the most talented four deep back system in the northwest. I don't for see anyone stopping them within the red zone which is obviously very worrisome for opponents.
Even with all of the talent on offense, the defense has proven to be just as good if not better. Norcross returns after racking up Defensive Player of the Year Honors within the conference last season, while Vailea is just a man child on the interior sometimes pushing around two guys at a time from his D line spot. Vailea earned second team all league honors last season, and is a legit D1 prospect.
Michael Digenova (6-2 210 Jr. LB) is another super talented kid and will come in ranked as one of our top junior backers for the state. He has been one of the most impressive kids on the field the last two times I have gotten to see the Papermakers play. Both him and undersized D lineman Nick Gadbaw (6-1 200 Sr. DL) create havoc all game long for most opponents, and they will be names we here moving forward.
Camas has the luxury of having most kids play on one side of the ball or the other, but Dylan White and Eagle are two of the best defensive backs in Washington with Eagle just terrorizing QB's with his anticipation. Its rare to see a 5-9 junior be as good as he is, but the 2nd team all league athlete from last year is the real deal.
These guys have won Championships growing up on both the football and baseball field, and as of right now they are legit 4a State Title Contenders. The shutout of Union was impressive for multiple reasons, and we feel that this group could be considered a Top 100 Team nation wide if not this year then next. They are that good.
We will continue to keep tabs on the Papermakers as they are a class group that we will hear a great deal from moving forward.