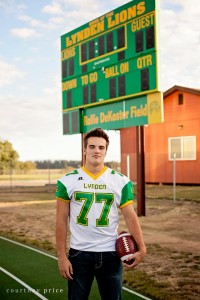 Caleb Newman (6-3 230 Sr. DE) of Lynden is a legit D1 athlete and one of the most talented, yet unknown recruits in the northwest. He is a 3.9 student taking rigorous AP courses and just happens to have four D1 offers (Wash St, E.Washington, Air Force, Army). Broadcasting the 2A state title game on Saturday I realized Newman was more dominant than originally thought.
This Lynden team was one of the most impressive squads I had seen at any level in either Oregon or Washington. The pasting they put on a very talented Capital team the week before in the state semis definitely opened eyes. The offense did its thing against a good Tumwater program that had won 12 straight coming in.
Josh Kraght and Zach Vis were ridiculous all day long. I really can't say enough good things about both of these kids, as some collegiate program is going to get a steal come signing day. Kraght plays like he is 6-3 and runs like one of the state's top backs, and Vis broke every state championship record ever set with 271 yards receiving and 3 Tds in the title game.
Newman is a well spoken kid that plays with a non stop motor, and is opening doors left and right with a combination of on the field play and academics. Caleb says, "I like the structure of the service academies and what it provides you with after football, but its also very appealing to be able to play in the Pac 12".
Caleb is joined by another very talented lineman in Matt Meyer (6-5 280 Sr. OL) who has made a verbal commitment to Washington St and is equally as dominant. Watching this Lynden group I came away saying that this was one of the best teams in the northwest regardless of classification level. It wasn't just the back to back state titles, it was the way they conducted themselves and played as one.
Newman dropped 15 pounds from last season and decided to stay at 220 for the year as he liked being able to move the way he did, "I was at 235 last year and dropped some weight for wrestling and ended up liking how it felt", Newman says. Caleb plays like he is 255, tossing kids or just running over them at will. His upside is through the roof, as he has a frame where he can add additional weight and still maintain his athleticism.
Caleb has unquestioned D1 ability and is an even better kid. Regardless of where he ends up he will be the type of kid that will be productive on and off the field and will make everyone around him better.
All of us at NEI are excited to see what Legendary Coach Curt Kramme has in store for the Lions moving forward. 19 senior starters will be lost to graduation, but underclassmen such as Junior WR Jalani Phelps (6-3 175 Jr.) 30 rec/569 yds/7 Tds, and sophomore RB/DL Trent Postma (6-0 185 So.) 32 carr/255 yds/ 5 Tds will be the next athletes to lead within the Lynden Football community.
We wish the Lynden Lions and Caleb Newman continued success moving forward, its a class program and one of the best small schools in the country.