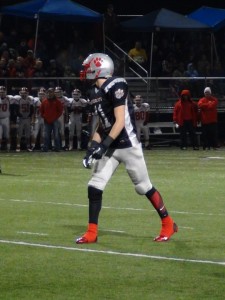 One of Washington's Top Multi Sport athletes, Trent Riley (6-2 210 Sr. WR/S) received his first D1 offer on the football field Wednesday, and we commend the Idaho St Bengals on being the first to recognize a LEGIT D1 talent. Almost as much as any kid in the state, Riley's ceiling is ridiculously high. He is one off the state's top hoopers, and also a two way threat at Wide Receiver/Safety.
Trent teamed with Hunter Malberg, Jimbo Davis, and Tyler Button to form one of the sickest secondaries in the western region. It rivaled Bellevue and Federal Way's DB's as the top group in the state.
Riley's brother Tanner is one of the top up and coming basketball players in the WCC playing for the Portland Pilots, so D1 athletes within the family is apparently the trend. Trent's a humble kid and was excited about the Idaho St offer, " Its good to get that first one and Im looking forward to going out there and looking at the campus".
You can expect Riley to receive some D1 offers on the basketball court as well, but he says football is his preference moving forward. " Im going to take my visits and make my decision a little later, but I have heard from a lot of schools including Nevada, Montana St, and N.Colorado".
Hunter Malberg has an offer from N.Colorado, and just the other day Coach Chris Smith of UNC visited Malberg, Riley, and top TE Griffin McClain. Most of the Big Sky is interested in Trent as they should be. Almost as much as any athlete state wide Riley is under recruited. By the time he is done I could see him holding an offer from all of the Big Sky schools and some mid majors.
As a sophomore Riley was a second team all league WR and an all conference hooper. He plays for the top AAU team in the state in 'Friends of Hoop'. A terrible injury his junior season put a hold on Riley's recruitment, but he has responded and now looks like one of the top athletes anywhere in the northwest.
"My teammates have been great and we had an incredible year, Im just looking to keep working hard and hoping for the best". We will continue to keep tabs on Riley as he is a "Freak" athletically, and someone that all of us at NEI think very highly of.