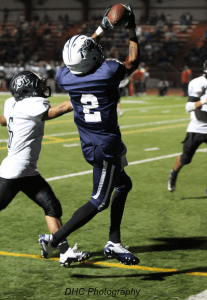 Todd Beamer High School in Federal Way isn't exactly known as a football school. The best year in the schools short history was 2006 when they finished 5-5. With the hiring of Darren McKay in June, Beamer has now had 5 coaches in its last 8 seasons.
A player breaking through all of that is WR Adrian Shocks (6-0 165). The junior speedster runs a 4.5 40-yard, has a 42″ vertical leap and just over 10′ in the broad jump. To say he is athletic might be a bit of an understatement.
Watching his highlight video you will notice that Shocks is still a bit raw. His athleticism is unquestioned, but the finer points of the Wide Receiver position still need to be perfected.
In 2012 he finished with 23 catches and almost 700 yards with 6 TDs. His average reception of just over 29 yards goes to show the ability Shocks has to beat the DB off the line and get deep. The season he had did not go unnoticed by SPSL 4A South coaches either as he was awarded with an All-SPSL Honorable Mention.
Speaking to NEI recently Shocks says, "My coaches use me on the field as a deep threat. I usually run go and fade routes to gain long yardage in certain situations."
Adrian is also an accomplished track athlete. As a sophomore he competed in the State Track & Field Meet. His personal best in the Long Jump is 20′ while his Triple Jump is just over 43′. Shocks also competes in the 100m Dash and has a best time of 11.54.
Academics are something Shocks takes very seriously. He currently sports a 3.51 GPA while taking some very tough courses. "I am currently enrolled in 2 Advanced placement classes otherwise known as college courses," Shocks said. "I Set high goals in the class room and even higher goals out on the field and weight room."
Adrian understands what he needs to do to get better and has the right mind set to do so. An offseason working with BFA WR Coach Mike Bush is something that could help take Shocks to the next level.
Beamer is a team that is growing and getting better by the game. They finished last season by winning their final two games against Bethel and Mount Rainier. They return some quality players in Dashay Ware (So, 5-9 160, WR/DB) who had 8 INTs, Marcus Schimmelfennig (Jr, 5-10 160 WR/DB) and Anthony Allen (Jr, 5-10 170) who will most likely see time at both QB and WR.