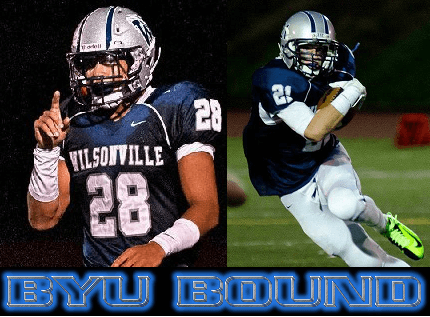 Two kids we have gotten to know well over the last couple seasons finalized their commitments to BYU after Johnny Ragin decided to join Tanner Shipley in committing. Ragin and Shipley played for highly respected head coach Adam Guenther of Wilsonville and didn't dissapoint. Shipley was voted the Conference Offensive MVP after rushing for 1392 yards with 19 total Tds, and 328 receiving yards.
Shipley averaged over 10 yards per carry, and was ranked our #2 WR state wide to put into perspective how versatile he was. Both him and Ragin were part of our NEI-South squad that traveled with us to Las Vegas for the national 7 on 7 tournament. Ship had offers from Colorado, Oregon St, and Wyoming but much like Ragin decided that Provo was the best place for him. "I can't wait for our journey to Provo, it's an amazing place that is supported by a lot of great players and coaches". He continued, "The place was just right for us in our hearts, and playing for the Cougs was a true blessing."
Ragin had offers from the same schools, and was just as high profile after dominating on the camp circuit over the off season. Johnny was a first team all league athlete that won MVP honors at the NIKE NFTC, NIKE SPARQ, with an invitation coming to the Elite NIKE Opening. Ragin tested through the roof and was also a 4.0 student.
He says, "My mom and I had a good talk and we both just decided it was the best place for me". Ragin continued, "they have the #2 business school in the country which is important, and I just felt it was the best fit for me". Ragin recorded 8 sacks on the year and can play on either side of the ball as a Linebacker or H back.
We wish both Johnny and Tanner continued success, they are phenomenal kids first and outstanding athletes second. Both athletes are potential college All-Americans and will represent the State of Oregon as well as anybody.