Drew Lewis – Eastlake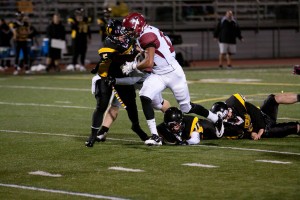 Eastlake RB/S Drew Lewis (6-3 190 Jr.) will have plenty of options before all is said and done, but his first D1 offer was special for multiple reasons. His brother Ryan, the record setting tailback from 2 years ago, is already a PITT Panther and loves the Big East school. "Its an honor to get an offer from such a quality university and it would be great to play with my brother", Drew says.
Lewis made the trip not long ago to Pittsburgh to visit with his family and see a game. It was there where he received the scholarship offer to play along side his brother. Drew is a talented running back but might project even better at safety. He is ranked among the top 3 players state wide on both sides of the ball for the junior class, which only Budda Baker (Bellevue) and Devante Downs (Mountlake Terrace) can claim among the skill positions.
Lewis is a well spoken kid and does well in the classroom. He will be an athlete that we will see at our elite events over the winter, and is someone that should be a 10-15 offer kid. He will venture out to the Army All American Combine this January, which NEI and Taylor Barton attended the event last year, with the other top athletes from around the region.
Drew is a legit D1 kid and someone we think very highly of. You can expect to hear a lot more from him moving forward as this will be a once in a lifetime off season.
Isaiah Brandt-Sims – Wenatchee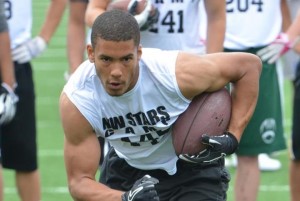 Isaiah Brandt-Sims (6-0 180 Jr. ATH) of Wenatchee is a kid we have gotten to know well over the last few seasons, and can't say enough good things about. A few days back he received an offer from SMU where Eisenhower QB Kolney Cassel will be playing. Brandt-Sims was just named the Big 9 MVP and Offensive Conference Player of the Year after rushing for 1400 yards and 20 Tds, and catching 21 passes for 317 yards and 5 Tds.
Isaiah says, "I talked to Coach Mason and said they had been following me for awhile, and liked the fact that I can play multiple positions.. he then extended the offer". Brandt-Sims is an outstanding student and someone that is also being looked at by a host of high end academic institutions. He currently holds offers from Wyoming and now Southern Methodist University.
Brandt-Sims was the only sophomore on either Team Oregon (NEI-South) or Team Washington (NEI-North), traveling with us to Las Vegas last Spring. He went off against some of the nation's top players putting himself on the map. Isaiah won the 100 and 200 Meter Big School state title in Washington as a freshman, to put into perspective how talented this kid is. He is truly one of the most respectful and likeable athletes you are ever going to meet.
Isaiah has an awesome family support system, and we consider Wenatchee one of our sleepers next season among 4A teams in Washington. "I started running the ball full time towards the end of the season and that turned out pretty well". We have Isaiah Ranked our #1 Athlete/Slot in the State of Washington for the 2014 class, and we feel he will have a very busy off season among legit D1's including most of the Pac 12. Congrats to Isaiah on his most recent offer.