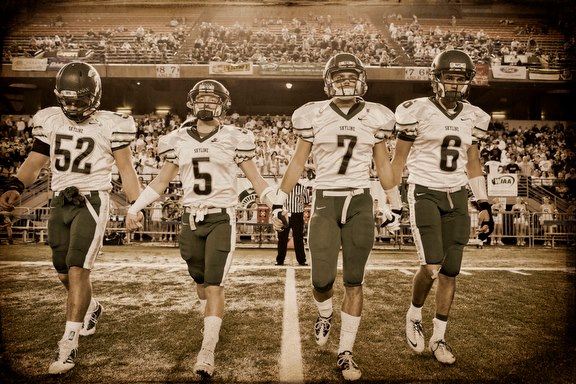 Highlight Videos:
Trevor Barney , Nic Sblendorio , Matt Sinatro , Andrew Giese
Everyone knows about the Nation's #1 QB Max Browne (6-5 210 Sr.), headed to USC out of Skyline High School. He's an even better kid than he is an athlete which says a lot considering he's the best in the country.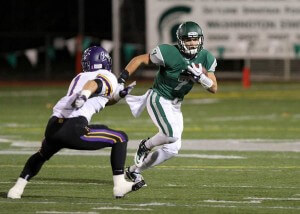 We caught up to Max a week after winning back to back state titles, as he talked about the phenomenal receiving core that surrounded him for the last three seasons. Nic Sblendorio (6-0 195 Sr. WR/S), Trevor Barney (5-9 175 Sr. WR/CB), Matt Sinatro (5-11 180 Sr. WR/DB), and Andrew Giese (6-2 190 Sr. WR/S), all played a vital role in the championship runs from the past two seasons.
This group was special for multiple reasons, but the numbers they put up and the way they bonded from a very young age was storybook. The Skyline community does a phenomenal job of supporting its athletes and is one of the most well run programs in the northwest. As a sophomore Max had D1 standouts in Kasen Williams and Jordan Simone to throw to. For the last two seasons he has had four of the fiercest, and most efficient wide outs anywhere on the west coast.
On paper its a group that is average in size, when in reality its a wide receiving core that's just better then everybody. This combination of elite receivers allowed Browne to throw for 12,742 yards and 144 Tds, completing 70.5% of his passes from 2010-2012.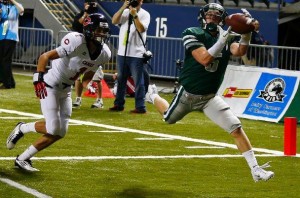 Sblendorio is the most high profile kid of the group and someone that Taylor Barton calls, "the most under recruited player at any position in the northwest". Bold statement from a guy that knows his football an doesn't give compliments freely.
Nic has offers from Eastern Washington and Northern Colorado, but is someone that we consider probably the top receiver in the state of Washington with all due respect and consideration to Sammie Long of Lakes. Sblendorio just has that "IT" factor that you can't teach. He has caught 136 passes for 1927 yards and 22 Tds the last three seasons. His physicality and blocking ability are additional attributes, that only help to bolster his ability to get open at all times.
Max says, "Nic's been that big name guy that is just very physical and tough and will wear people down over a game… We have been neighbors and best friends for a long time, and he is one of the most reliable people on and off the field you will ever come across".
Sblendorio will be a D1-AA All American if that's the route he takes. Whoever lands him will be getting an absolute steal to say the least as he could easily be the most dominant receiver in the Big Sky. He could very well be a Pac 12 type wideout.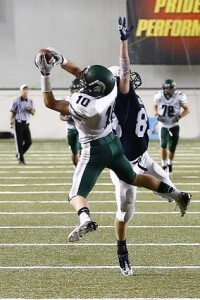 Look for Nic to land some additional offers in the near future with Portland St, and a host of others right on the bubble. His 58 catches, 1085 yards, and 12 Tds were huge this season as Sblendorio dominated every opponent that they played.
Then there's Trevor Barney (5-9 175 WR/CB). One of the most exciting athletes to watch in the entire northwest. We saw him for the first time down in Lake Oswego OR when he was a junior, and you knew this kid was going to be special. Over the last two years he has lead the team in TD receptions with 24, while catching 103 passes for 1555 yards in 2011-12. Browne says, "Trevor is really tough and one best blocking wide outs in the state… His speed allows him to take a quick slant or a drag to the house, from anywhere on the field at anytime".
Barney is just very tough to guard and happy to come up and smack you much like Sblendorio. He has been offered by Georgetown and has other schools very interested, but is overlooked due to size. Wherever he ends up, props to the coaching staff as he will be a game changing athlete much like he was in high school.
Many people know about Matt Sinatro with a his famous Seattle Mariner last name, but his accomplishments on the football field rival his tremendous baseball ability. He's just another great kid with unquestioned work ethic, and an outstanding attitude. Sinatro has caught 77 passes for 1381 yards and 14 Tds over the last two seasons, making him another one of the state's top receivers.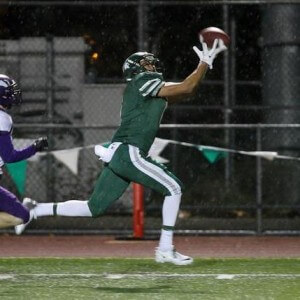 Max says, "Matt is deceptively quick and can go up and get it regardless of the coverage… He is a baseball first guy, but has brought so much to this team its incredible". He had a monster 2012 season catching 38 passes for 834 yards and 10 Tds finishing out what was a magical career
Last but not least was Andrew Giese who just got better and better each year. He is a legit 6-2 and had an outstanding senior season catching 51 passes for 781 yards and 6 Tds. In his career he accumulated 1235 yards receiving on 88 catches for 9 Tds. "Giese was one of our captains, and played really well off the other guys mostly being a possession receiver", Browne says.
In summary this 2013 class of WR's will go down as one of the greatest groups to ever come through the State of Washington. Not everything can be gauged on where that athlete ends up at the next level. You have to look at the insane productivity that all four of these individuals combined for over the last 2-3 seasons. Its been nothing short of spectacular, and we want to wish all of these Spartan receivers continued success at the next level.
Max says, "its been a great journey, with all of us growing up together and winning championships… I have the best teammates anywhere and wouldn't trade it for anything in the world."