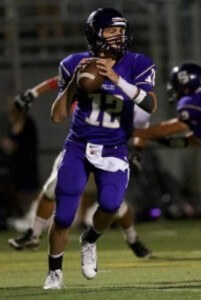 As we move into the off season Oregon's 2015 QB Class is shaping up to be a deep group to say the least. West Salem's Cade Smith (6-1 185 So.Wyoming) and Roosevelt's Kimane Domena (6-2 185 So. BYU) both have D1 offers, with Lakeridge all everything athlete Eric Dungey (6-4 185 So.) that next kid on the bubble.
Scanning the state's toughest conference you a see a kid over at Sunset that could be the Metro League leader for the next few seasons. Willy Pflug (6-0 170 So. QB) isn't the biggest kid in the world, but he is one of the best QB's in the region and just getting better. Pflug's an outstanding overall athlete with a unique understanding of the game. He is coached by one of Oregon's all time greats in Faustin Riley who also coached our very own Taylor Barton (All Time OR Record Holder, UW QB), and his son Kevin Riley who was the starter for three years at CAL.
Willy earned second team all league honors this season going 155 for 258, with 2200 yards passing, and 20 Tds. He is the son of a former college quarterback and coach, and has spent most of his young life on the football field.
Most importantly he is just a good kid, sporting a 3.85 GPA and taking rigorous IB courses. In the first round of the playoffs Pflug went 22 of 29 for 266 yards and 4 Tds, against a good Mcminnville team in the 49-42 win. His natural leadership ability on the field sticks out like a sore thumb, as Apollo faithful are excited about the possibilities moving forward.
Sunset will return first team all league athlete Josh Brown (6-6 240 Jr. TE/DE) who had a breakout season in 2012, and is ranked as one of our top athletes. They will also get the services back of WR Jeff Bieber (6-4 185 Jr. WR) who was injured for part of this season, but ranked as one of the state's top receivers for the 2014 class. Look for Bieber to have a monster senior year, especially with the departure of standouts Ryan Hendry and Trevor Caldwell to graduation.
All of us at NEI are big fans of Sunset and the program that Head Coach Faustin Riley has implemented. Other talented athletes such as lineman Alex Betancourt, and quarterback/athlete Clayton Welsh will need to step up big next season as well. We look forward to covering the Apollos and think very highly of the kids they are bringing back. Pflug looks like the best QB Sunset has had in sometime, and it will be exciting to see what they can do in the always tough Metro Conference.