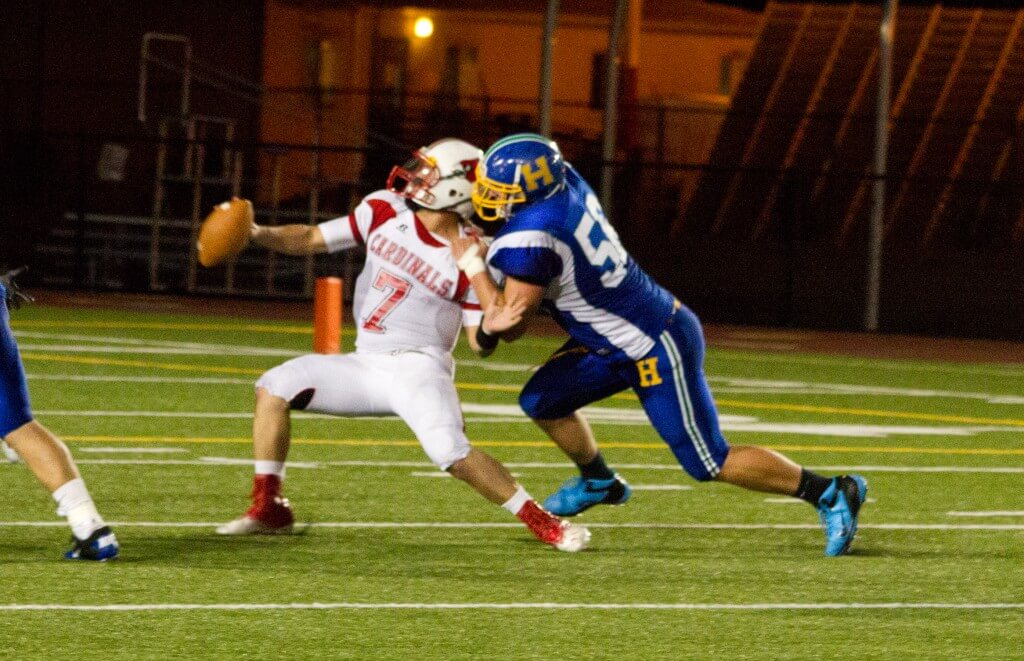 Lineman Cody Moorhead (6-4 260) of Hazen is thoroughly enjoying the recruiting process. He has offers from Air Force, Army, Eastern Washington, Idaho, Wyoming and will probably pick up a few more before all is said and done.
A four year starter on both sides of the ball, Moorhead's list of personal accolades is not only long, but growing by the day. During his Freshman season Moorhead was 2nd Team All-Seamount League on the OL and Honorable Mention for his work on the DL.
His sophomore season Moorhead began seeing more time at the TE spot and looked as though he may have a future there. That season he was again All-League, this time it was 1st Team DL and 2nd Team TE. His junior season was much of the same as Moorhead was again 1st Team DL and 2nd Team TE, but he did add the leagues Defensive Player Of The Year honor.
The offensive guard position is vital to Hazen's Wing-T offense, therefore Moorhead made the switch back to the offensive line for his senior season. He was once again 1st Team on the DL and this year became 1st Team OL while also being named the Seamount Leagues Offensive Lineman Of The Year. Moorhead has been named to 3 All-State teams and was recently picked to the Star Times Team picked by the Seattle Times.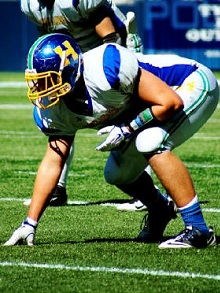 Most teams see Cody as a DE, but he is very athletic (4.88 40-yard) and versatile. "In the past four years at Hazen I have played 9 different positions just to help out my team," Moorhead said. "I played DE, MLB, NG, DT, Wing back (yes this is true), TE, OT, OG, and Center. My junior year alone I had played 7 of these."
Football and academics are something that Moorhead has always taken very seriously. "This game has been my life since I first started playing when I was 7. I have always lived and fought in the trenches and can never get enough of it," he said. "As for school I have a 3.7 GPA and am taking 4 AP classes this year. I take pride in my education and in my academics."
He also tries to spend time working with the junior football players. "We had a youth football team that would practice on our old baseball field". He continues, "I would make it a point after practice to walk over and talk to the kids, hold a bag for them and just encourage them about football".
"I know that If I was that age I would have been totally blown away that a big high school kid was talking to me. I wouldn't do this every day but it was enough to know the kids by their name."
As of right now, Moorhead has taken 4 visits and doesn't have any other planned. I spoke to Cody briefly about all 4.
– – – –
Air Force: "The coaches were great. Coach Calhoun was in the NFL (Houston and Denver) before taking the job at Air Force. Almost the entire coaching staff are alumni which is really cool."
Army: "I liked Army. The campus was beautiful. It is a very prestigious school and you really gotta like the idea of the Army to go there. "
Eastern Washington: "Cheney was really impressive. The campus is great and it was all about football that day. It loved that it was a football atmosphere."
Wymoing: "It really had a small town feel and I liked that. The coaching staff and practice were really impressive. Coach Christensen was a really nice guy."