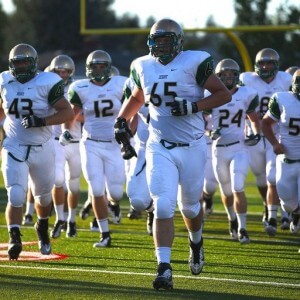 Big news out of Portland tonight as Jesuit's Max Rich (6-7 315 Sr. OL) made his commitment to Harvard and passed up 7 other D1 offers that had come in over the last year. Rich is a two time all league kid on the offensive line, and is also a talented basketball player.To he say he is massive in size would be an understatement.
Rich says, " I love the surrounding campus of Harvard and that really played a role, they are obviously great academically and are pretty good football wise as they have had 7 wins or more in the last 12 years ". He continued, " The coaches say I should compete for a starting spot right away, because they play their 5 best lineman and they believe I will be one of them".
Max is the 2nd big time northwest lineman to commit to an Ivy League school, after having Pac 12 scholarship offers among others. Rich had been offered by Washington St, Wyoming, N.Dakota, Portland St, Northern Colorado, and Yale but Harvard won out. He was ranked our #4 lineman state wide, and immolated what Washington's #1 ranked O lineman did in Mason Friedline when selecting Yale.
Friedline had offers from Washington, and Arizona St among others but chose the Ivy League putting education before football. It seems to be the current trend as Yale, Harvard, and Princeton have all landed some big time northwest recruits as of late.
Speaking to Taylor Barton, Rich was asked how coach reacted when being told of his commitment. Max chuckled and said, "he hugged me". Pretty cool deal for an outstanding kid who just showed his dedication to academic excellence. We wish Max continued success out on the east coast, he is a great kid and Harvard just landed a big time D1 recruit.