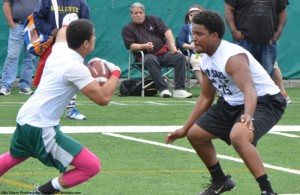 Heading into the 2012 football season, Federal Way LB Rod Jones Jr. was a player we all had our eyes on. He was 6'2″ and 230 pounds of terror just waiting to be unleashed. This season saw the talented prospect and the rest of the Eagles jump out big on teams, allowing the first teamers to sit while younger players got more playing time. Thus, he didn't put up big numbers, but still led the team with 30 tackles to go along with four sacks.
"It was a good season all around, but we didn't get that championship we all were aiming toward," Jones told Northwest Elite Index recently. "We worked hard in the offseason and really came together as a team. We got out big on teams all the time so I didn't really put up big stats, but I still led the team and honestly, the stats didn't matter that much to me."
On the recruiting front, Jones, whose father played for the Washington Huskies in the 80s, is still waiting on his first offer, but he has been hearing from three Northwest schools.
"Portland State is talking to me and Eastern Washington and Idaho are also looking at me," Jones said. "Idaho just went through their coaching change, so I don't really know where things stand with them right now and Portland State has been after me pretty hard so, we'll see what happens."
Jones is your classic middle linebacker, able to stuff the run inside, by taking on blockers and ball-carriers, but he's also got enough athleticism to pursue sideline-to-sideline and that is a reason why some are stunned that he hasn't been offered to this point.
We will continue to keep tabs on Jones through the rest of the recruiting process and will update news as it happens with him.