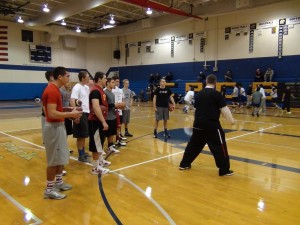 QBs
Probably the most complete group of the day as talent was everywhere. Getting to do work TB is a big deal so i commend most of the top QB's for getting out and grinding. Nick Mitchell (6-2 180 Jr.) of Mount Si, and Pierre Ledorze (6-2 220 Jr.) of ODea are ranked #1 and #2 for the 2014 class at the position. Nick showed off his overall skill set and impressive accuracy, while Pierre threw darts to receivers all day having the strongest arm of any athlete in attendance. Dillon Sugg (6-5 210 Jr. QB) of Wenatchee continues to impress with his work ethic, doing multiple camps on the day and traveling across the state during basketball season. I'm a big Dillon Sugg fan.
Derrick Becker (6-0 175 Jr.) of Capital will be a 2A player of the Year candidate and is one of the most exciting overall athletes to watch on the field and Tanner Gueller (6-2 215 Jr.) of WF West just continues to get better. Gueller is a camp guru much like the other kids and has outstanding genes with his brother being drafted in the 1st round of the MLB Draft.
It was good to see the very talented Casey Brink (6-2 190 So.) of Bainbridge back doing work at the QB position, while Kevin Thomson (6-3 190) of Auburn-Riverside showed up and looked very much the part, Jayden Croft (6-1 180 Jr. QB) out of Tumwater is fresh off a state title appearance and will be the leader of a 2A favorite next season, while Jackson QB Alex Cheeseman (6-0 170 So.) has been attending our elite events since his freshman season and is one of the better sophomore QB's in the state. 2nd team all league LB Eli Clayton of Renton was showing his versatility at QB and JP Routen of Newport will replace Isaac Dotson from last season.
Young guns that will be two of the better QB's in the region/country are Connor Neville (6-1 160 8th) out of Oregon, and Jacob Sirmon (5-11 155 7th) out of the Bothell program. Both kids could be two of the best QB's we have seen come through the region in some time.
Another very talented young athlete at the quarterback position is Rowan Parmenter (5-11 160). He was one of the two most accurate QBs in attendance and is still a youngster. Look for him to lead Cedar Park Christian in the coming years.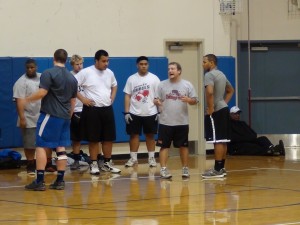 DL/OL
Its always fun to see the top lineman perform against one another and this group didn't disappoint. I wouldn't want to be the guys having to go against Juanita in the coming years as they will produce match up problems for days. Thomas Toki (6-1 280 So. DL) could be the state's top D lineman for the class of 2015 and will be a big time D1 kid, while teammate Paul Finau (6-2 300 Fr.) has D1 genes and will end up being one of the country's best for his class starting as a freshman.
Enumclaw has a pair of juniors that RB Maurico Portillo is going to love running behind in Chandler Streuli (6-3 280 Jr.) and Sam Fisher (6-3 255 Jr.). Streuli is ranked as one of the state's top lineman for the 2014 class and is already garnering Pac-12 interest, while Fisher has made a great impression and is climbing the charts quickly.
A couple of the most impressive kids on the day were Jay Tee Tiuli (6-4 285 Jr. DL) of Federal Way and Elijah Klein (6-4 280 Jr. DL) of Bellarmine Prep. Tiuli moved people at will and couldn't be stopped. If I was to pick out one kid other then Toki that was consistently dominant it would be him. Klein was under the radar to an extent, but was found during Bellarmine's magical season and projects at the D1 level.
Coming off a state championship appearance with Eastside Catholic, Drew Springfield (6-3 265 Jr.) showed why he was considered an anchor of one of the best offensive lines in the state. His continued work will almost guarantee he climbs the rankings board of the 2014 class.
Two offensive lineman that had a great start to the Elite season were Reggie Long (6-2 275 Jr.) of Skyline and Micah Prescott (6-1 300 Jr. OL) of Renton. Long's teammates rave about him as he will have to be the backbone of the Spartan attack next season losing so many starters. Prescott was an all league kid last season and was a big part of Renton's turnaround, as he is considered one of the top 10 lineman state wide.
Another defensive threat that I was very impressed by was Jakob Stoll (6-2 260 Jr.) of Wenatchee. Stoll is a kid that comes off the end as hard as any athlete in the state and much like teammate Dillon Sugg is a workaholic.
Teammates Treshon Long (6-2 300 Jr. C) and Grant Williams (6-1 240 So. DL) are a pair of athletes that will help North Thurston continue its winning trend, and provide a much needed up front presence. Long is a big inside presence that is tough to move, while Williams is a great looking prospect with great overall athleticism.
Two other kids that showed up and did phenomenal work were Nick Streubel out of Coupeville and Quadir Griffin out of Hazen. Streubel was awesome all day and will be one of the better lineman in the state at the 1A level and Griffin moved people with his shear size and strength.
Overall it was an extremely impressive group that should be excited about the future. The state of Washington has kids up and down the board that can play up front and these kids all project to a level of collegiate football.
RBs
One off the top two way threats in the state of Washington in the coming years will be Sam McPherson (5-10 180 So. RB/S) out of Bothell. He got significant playing time as a sophomore and should be the go to guy out of the backfield in 2013. He looked the part and is also an outstanding DB. Mac McLachlan (6-0 205 Jr. RB/LB) is a two time first team all league kid out of Edmonds-Woodway and should carry the load with the departure of one of the state's best in Desmond Young.
Maybe the fastest rising back in the state is Conner Baumann (6-2 215 Jr. RB/LB) out of Newport. Baumann earned 1st team all league honors last season rushing for 1300 yards and 14 Tds and will be one of the state's best this season. Another KingCo back was Alec Kacmarcik (6-2 205 Jr. S/LB) of Woodinville. He was great as a RB, but projects as a DB and could be a legit strong safety type at the next level.
Mauricio Portillo (5-11 205 Jr. RB/LB) of Enumclaw is an outstanding all conference back and is a kid that just continues to get better. He will have that massive line to run behind and it will be exciting to see what he does moving forward.
Jordan Abdullah (6-0 205 Jr. RB/DB) of Hazen is a kid that also showed up and impressed as we got our first look at another Hazen kid that seemed hungry after a solid junior year. Abdullah's teammate Joe Glaefke (6-2 225 Jr RB/LB) probably projects more at the LB position, but he showed good speed, agility and better hands out of the backfield than expected.
It was great for these athletes to get to work with our RB coach Ryan McCants, who had a successful career at Oregon St starting and doing well before going on to the NFL combine last year.
WR/TE/ATHs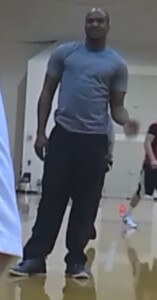 Two of the state's top players at their position headlined the WR's and TE's with Drew Sample (6-5 235 Jr. TE) and Keynan Foster (5-10 165 So. ATH) both playing lights out. Sample is WA's #1 ranked TE for the 2014 class and has the size and overall athleticism to do some big things in the coming year. Foster was one of the state's most exciting athletes going for double digit Td's on the season.
A junior that both played in state championships a month ago, Drew Griffin (6-0 200 Jr.) of Bellarmine Prep. Griffin had an impressive title game and an equally impressive elite event. He is a solid two-way player that worked on his offensive game this week.
Another breakout athlete that impressed was a kid that we recently added to our rankings board in Adrian Shocks (6-1 165 Jr. ATH/DB) of Beamer. Shocks has skills and is doing a good job getting himself out on the camp circuit. Nick Seldon (6-4 215 Jr.TE) is another TE that we like out of Bellarmine who started on this years championship runner up and is a kid that has college level size.
Three sophomores that came in and did well and played huge roles for their respective teams this season were Gavin Hettinger (5-10 165 So. WR/DB) of Auburn Riverside, Brett Rankin of Emerald Ridge (5-11 165 So. ATH) and Connor Heger (6-0 185 Eastside Catholic). Expect all three to be featured players within their conference in 2013.
Junior Jordan Hall (6-2 185 Jr. WR) out of Redmond is a kid with a work ethic that won't quit and will be a three year starter. Another Kingco kid is Sam Mix (6-0 170 Jr) of Skyline will be the go to guy for the Spartans with the departure of a big senior class.
Bryan Moon (5-10 165 Jr. Slot/DB) of W.F. West is an outstanding athlete and will be a key member of a very talented 2014 class, and Erik Rottsolk (6-6 220 So. TE/DE) of Lakeside (Seattle) has one of the biggest upsides of any athlete in attendance. The kid has legitimate size and can go up and get it.
DBs
One of the top DB's in the entire northwest showed up and did his thing as Keenan Curran (6-1 185 Jr. S/ATH) of Federal Way was more then impressive. His length, speed, and overall instincts put him in another category of athlete as he comes in ranked the #2 DB in Washington.
Vere Waqaituinayau (5-10 200 So. RB/S) was maybe the surprise athlete of the day, due to how talented he is at such a young age. He dealt with injuries last season, but will come in as one of the top ranked players in the state for the 2015 class. His ability to come up and jam receivers was that of a college athlete and not a HS sophomore.
Another surprise as a DB was Gabe Gleizes (5-11 165 Jr.) of Tumwater was a 1st team all league kid that can lock you down and also hit. One of the most impressive kids in the entire gym was Mike Johnson (6-0 160 Jr.) of Camas, who is fast and showed that he will be a big time factor for #1 ranked Camas coming back.
Ian Biddle (5-10 170 Jr.) of Woodinville showed why he was 2nd team all-kingco. He came in to a camp with some elite receivers and played lock down most of the day. Mason Jacobs (6-1 165 Jr.) was the 4th member of the Hazen Highlander crew and like the rest had a very productive day.
Two more of the state's top sophomore DB's also got in the mix in Dashay Ware (5-10 165 So. DB/ATH) of Beamer and Markus Stoll (6-1 175 So. S) of Wenatchee. Ware was kind of an unknown, but showed up and did very for himself earning 1st team all league honors this past season. Stoll split time on Varsity but is a kid that we really like and will play a huge role for his team moving forward.