Reggie Long Highlight Video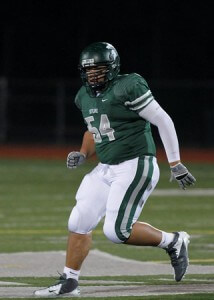 With three state championship appearances and two titles in his back pocket, Junior Reggie Long (6-2 290) is quickly becoming one of the best offensive lineman in Washington.
This past weekend Long began working in the Barton Football Academy Elite Events and was quick to shine. Coming from a pass heavy offense, Long's ability in pass protection is almost text book caliber. An offseason with BFA line coach Alex Linnenkohl will help Long refine his all around blocking.
Speaking with NEI Long said, ""It was a lot of fun. It was really nice to compare to the other talent from around the area. I liked working with coach Linnenkohl."
This past season brought his second state title and recognition from league coaches as a 1st Team All-Kingco player on the OL. Long does see time on defense at NG, but is seen and projects more to the OG or C positions.
Right now Long is ranked as our 12th best OL of the 2014 recruiting class in the state of Washington. You can bet when the new rankings come out in the next few days, things will change.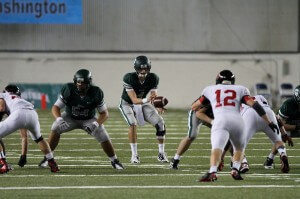 Long has been around football his entire life and it is really of no surprise. His father, Dion, played Middle Linebacker at Bemidji State in Minnesota. He also grew up around two D1 athletes in Kasen Williams (Washington) and Tom Swanson (Boise State). Over the offseason Long also spends time working with future Spartans in the Skyline Summer Youth Football Camps.
The Skyline Spartans (Sammamish) are one of the most storied programs in the state and are in the hunt for a state championship almost every year. With the graduation of a huge senior class, Long will be counted on for more than just his ability on the field next season. "We start workouts in a few weeks. Some guys in the shadows are going to have to step" Long said.
Next season will be Long's 3rd as a varsity player. As a freshman he worked with the Varsity team after the freshman season was over. The sophomore season brought Long full time to varsity with reps coming mostly late in games. This season Long became the full time starter at RG and instantly impressed.
When asked about goals for next season, Long was short and very much to the point. "Personal goals, I would like to be 1st team KingCo and make the All-State team". Long continued, "Team goals, win state and keep the Skyline tradition alive."