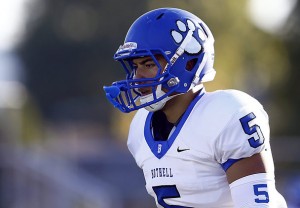 For quite some time, it's been assumed that Bothell RB/LB Darrin Laufasa was headed to BYU. The Cougars had offered the talented prospect back in the summer and he gladly accepted, expecting to spend his college years in Provo, Utah. However, things have changed and now the senior will likely head to his newest suitor…
"UTEP just offered Darrin and he is probably headed there," John Laufasa said via text to Northwest Elite Index. "BYU backed out of their offer."
Laufasa is a big, athletic player who showed great promise in summer workouts, posting a 4.55 forty time at 225 pounds.
He spent his first three years at Juanita High School in Totem Lake, but transferred to Bothell to be closer to his family.
This past season, Laufasa rushed for 700 yards and six touchdowns for Bothell, but was asked to pave the way for what turned out to be a very good running game, ahead of Danny Wilson who rushed for nearly 2,000 yards and 30 touchdowns.
We will hopefully catch up with Laufasa in the near future to get his thoughts on things.