Keynan Foster Highlights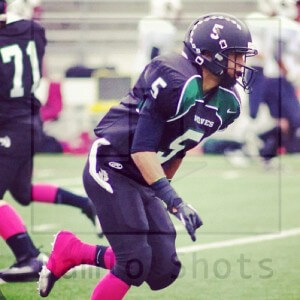 One of Washington's most exciting sophomores, Keynan Foster (5-9 160 So. Slot/Corner) of Jackson, didn't waste any time making a name for himself this past season. The youngster caught 37 passes for 604 yds and 11 total Tds (9 receiving, 2 rushing), averaging 16.3 yards per reception.
Foster showed up on the NEI/Barton Camp and Combine Tour as a freshman and put himself on the map with some of the best testing times of any athlete in attendance. His impressive performances at such a young age, translated on the field in 2012 as he earned 2nd team All Wesco honors. The Timberwolves finished (9-2) on the season after going (6-0) in league play. Foster says, " we had a good year, but we are always looking to improve and hoping to make it even further next season".
Jackson graduates most of the offensive line which is never easy to replace, but brings back one of the state's top sophomore QB's in Alex Cheeseman (6-0 160 So.), another kid who has been at our Elite Events since he was a freshman. Keynan says, " we lose Trevante Robinson who was 2nd team all state, but bring back most of our other skill kids". He continued, " Jake Miles is a freak and will be back for us on the line, and our sophomore linebacker Jacob Saldana is a beast".
Jackson had a knack for winning the close ball games, getting three conference wins in a row by a combined 5 points early on in the conference season. Coach Joel Vincent has done a great job of instilling a winning mentality within the program allowing athletes likes Foster to thrive.
Foster is a two sport athlete with a 3.3 GPA, also excelling in baseball. He's not the biggest kid in the world so he understands what he will have to do to create opportunities for himself at the next level. He will be a conference player of the year candidate next season, rarely leaving the field as a slot, corner, and full time return man. Keynan has attended almost every event that we have put on over the last year, and we can't say enough good things about his character.
Props to Keynan's family and coaches for giving him the tools to be successful on and off the field. ESPN'S Mason Kelley caught up to him at our last elite event to put into perspective how talented the kid is. We curently have Foster ranked the #2 ATH state wide, behind Chico McClatcher of Federal Way for the class of 2015. We look forward to seeing what Foster can do over the next few seasons and will keep you updated as things happen.