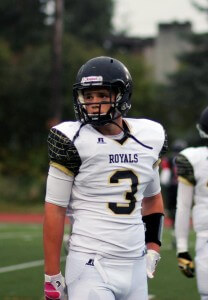 Even though Lynnwood (Wa.) High School doesn't produce a lot of top-shelf talent on a year-in, year-out basis, they have produced at least a couple of players who got attention from Pac 12 schools. The most recent has been OL/DL Andrew Basham who garnered offers from Oregon State, Arizona State and Washington before choosing the Huskies.
The next player in line that likely will see his name bandied about by college coaches is LB Andrew Katzenberger, a 2015 prospect who has already started two full seasons…
Katzenberger already has great size for a prep player, measuring in at 6'2″ and weighing 210 pounds. He's already been hard at work in the weight room since the end of the season and he's hoping a solid junior season gets him some notice.
"I'm planning to hit a lot of camps this spring and summer," Katzenberger told Northwest Elite Index. "I'll hit some down at U-Dub and probably at least one or two at like Washington State and maybe Oregon or Oregon State."
The junior-to-be has started both ways two years already and said, while he loves playing offense, he knows where his bread is buttered.
"I've been playing linebacker a lot longer, so it's what I'm most comfortable doing," Katzenberger noted. "I just love hitting people and linebacker is a place you get to do a lot of that, plus you are just in the middle of everything and that's always fun."
As a freshman Katzenberger totaled nearly 100 tackles and he followed that up in 2012 with over 100 stops to go along with an interception and four sacks earning Second Team All-WESCO honors.
"They use me mainly as an outside linebacker and that allows me to do a lot of different things," Katzenberger said. "I can blitz, I can rush the quarterback, I drop back into coverage and I stop the run. Whatever my team needed me to do, I was able to do it."
In addition to his exploits on the football field, Katzenberger is also a star on the Lynnwood track team, throwing the shot and discus.
"I mainly started doing that just to stay in shape and to have some fun, but it turned out I was actually pretty good at it, so I started working on it more," Katzenberger said. "I love to compete in everything I do. That's something that my parents, especially my dad, have always been and it sorta just rubbed off on me I guess. I always want to do the best I can at whatever I do."
Katzenberger is definitely a player to keep an eye on over the next 18 months or so as he works his way through the combine and camp circuit this spring. He has the size and athleticism to be a very good one down the road and it will be interesting to see how many college coaches he has knocking on his door in the future.