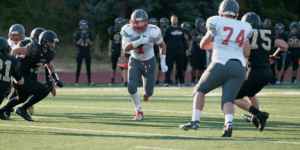 Whats crazy about Devante Downs (6-3 235 Jr. RB/LB) is that he is always hungry for more. The kid out of Mountlake Terrace continues to rack up Pac 12 offers adding CAL to the list of schools vying for his services. Downs is an Eddie George type athlete, that has been offered by the likes of Washington, Utah, Arizona St, Washington St, and Colorado St.
CAL is extremely fitting as he is a 3.6 student, already earning college credit through his high school program. More then anything Devante has his act together, and is focused on being one of the best backs in the country. Referencing the offer from the Bears he says, " I like that Coach Dykes took time out of his day to offer me himself, and running back Coach Ingram said I would get the ball in my hands a lot". He continued, " The academics are superb especially in chemistry where i'm going to major so its a very appealing school".
Downs went for over 1300 yards and 23 Tds this past season, earning player of the year honors and also being ranked the state's #1 LB. I think Devante will be a 20+ offer kid as he can play on both sides of the ball and is better then basically everybody.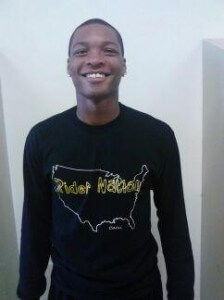 The kid out of Roosevelt just continues to impress as Kimane Domena (6-2 180 So. QB/ATH) added Colorado State to his list of offers. Domena was offered by BYU over a month ago and looked very good at our elite event 2 weeks back. He's one of the best overall athletes we have seen come through Portland in some time, as he is still developing his game only being a sophomore.
Domena's ability to run is what separates him as a QB. He has an outstanding arm, but is still progressing as a quarterback. As a sophomore he made others look silly rushing for 782 yards and 16 Tds. Head Coach Christian Swain has got things dialed with his kids, as the school is thriving under his leadership when other PIL teams are severely struggling.
Kimane was offered as an athlete by BYU, which speaks to all of the options that he has moving forward. We expect him to be a double digit offer kid before all is said and done.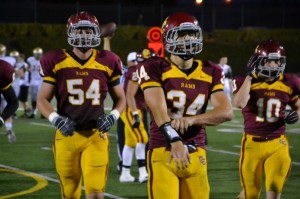 One of the state's top RB/LB's Ryan Nall (6-3 230 Jr. RB/LB) of Central Catholic, landed his first of what will likely be many offers. Nall was offered by Portland St where his brother is currently on full scholarship. Jacob Nall was the Mt Hood Conference Defensive Player of the year, and Ryan will be a likely candidate for the award next season.
Nall is big and fast and consistently laying hat. He doesn't say a whole lot, as he lets his play do the talking on most occasions. He is ranked our #3 LB and #2 RB state wide for the 2014 class and has a legit D1 frame. Ryan will most likely be a double digit offer kid, as you can't teach 6-3 230 and fast.
Congrats to the youngest Nall on PSU, the Vikings would be happy with the two talented brothers on the field together.