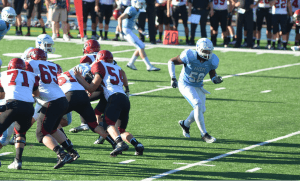 Over the next year you will here us talk a lot about one of the northwest's top soph QBs in Eric Dungey (6-4 185), and highly ranked junior D End Marqueese Royster (6-1 250 Jr.). The Pacers also feature one of the state's top backers in Chase Marshall (6-3 230 Jr. LB) who will be three year starter and a kid with legit college level talent.
That said, the x factor next season could be J.R. McLaughlin (6-2 190 Jr. WR). Through week 3 the junior led the state in multiple receiving categories catching 18 passes for 423 yards and 5 Tds… He was on pace to break some Pacer receiving records before a knee injury ended his season.
We currently have J.R. ranked the #5 WR in all of Oregon for the 2014 class, and he could climb the list quickly as he has legit size and smarts. He carries a 4.0 GPA with 3 AP classes and has the potential to flourish next season, with one of the state's top QB's getting him the ball. Dungey is a legit D1 talent that can run and ranks as one of our top QB's for the 2015 class. Eric has been training with Taylor Barton who says, "Eric has unlimited potential, I really like his work ethic and I think he could be a big time D1 talent with continued work". Positive words from guy that holds every passing record ever set in Oregon.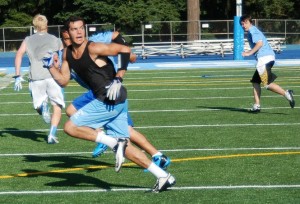 Mclaughlin is also considered one of the state's top DB's so he gives schools options at the next level. Referencing J.R. Dungey says, " he is extremely hard working and one of my good friends and I think that is important for any QB and WR's chemistry". He continued, " Im blessed that I get to have such great guys and friends as teammates, and Im more then excited for the season to start with you guys at Barton".
As most know Tom Smythe is a living legend in the HS football world, and has won multiple big school state titles at (Lakeridge, McNary). You can rest assure that he will make the most of having a talent like Mclaughlin. Royster is going to do his thing and cause havoc up front, but Marshall's presence at backer cant be underestimated. Eric says, "Chase has been in the weightroom everyday, and he's putting up crazy numbers….he's actually faster then some of our quicker receivers".
Expect wide outs Chase Clarke (5-11 175 Jr. WR/DB) and Jack Cole (6-1 175 So. WR/DB) to get in the mix, with Freshman DL Massen Newton (6-1 245 Fr.) and sophomore two way standout Michael Kiever (6-1 225 Jr. being a factor. The Pacers had a rough season (3-8) dealing with a host of injuries, but they feature one of the better coaching staffs in the region and should be ready to go in the coming year.