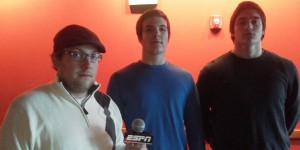 Give credit to the University of Washington who had a very successful Junior day and made some big moves. On Saturday it was great to hear from both Metro League standouts just after being offered by the Huskies.
The state's top TE Henry Mondeaux (6-5 245 Jr. TE/LB) will be a double digit offer kid, as he is one of the best route running TE's in the country. Mondeaux was offered by Oregon State a few months back, and he felt good about this offer as well. "I had a great junior day, the staff was awesome, and it feels really good to get offered by such a great academic school… I like how they use their TE's and look forward to learning more about the university".
Henry will be a three year starter, and someone that has ridiculous overall athletic ability for a kid his size. You rarely see a linebacker 6-5 that can move side to side the way he does, and that translates on the offensive side of the ball.
Oregon's top junior linebacker, Joey Alfieri (6-3 220 Jr. LB/FB) of Jesuit, is in the same boat. Alfieri has NFL genes as his father played for the Jets and at Oregon St. Joey was a 1st team all league kid for the last two seasons, and has film that displays unique instincts that can't be taught.
Referencing his offer Joey says, "Washington's junior day made me realize it has a lot more to offer then just football… it has some amazing academics which is extremely important to me, and having the #1 medical school in the nation was pretty cool". He added, "Getting my second offer alongside my good friend Henry Mondeaux is really exciting, along with getting to go through the process with him."
We have been able to get to know Alfieri and Mondeaux over the last few seasons, and both kids project as double digit offer athletes that just continue to get better. We will see both kids on the camp circuit over the off season, and at our elite events where they have been dominant against the region's top athletes this past month.
We look forward to keeping you updated on the progress of both kids as its very early in the recruiting process.