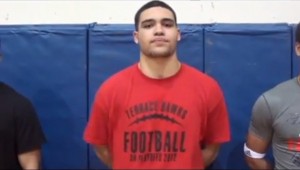 It was good to hear from Devante Downs yesterday after Oregon State pulled the trigger and made his 7th offer official. The Beavers were a school that Devante thought very highly of prior to this offer, and he was happy to share his thoughts.
"I talked to Coach Bray and he said they would like to offer me as a linebacker". He continued, "Running the ball is something that I want to do, but I also understand that it's whatever puts me in the best position to get to the next level".
Downs should almost have his own tab on NEI as he seems to be getting offers weekly as of late. Cal, Washington, Arizona State, Washington State, Utah, and Colorado State are the other schools to offer. Devante has been offered primarily as a RB, but is equally talented at backer, ranked the #1 recruit at that position for the 2014 class.
Last season he went for 1,300 yards and 23 Tds, while racking up 90+ tackles and 6 sacks from his defensive spot. We have said time and time again that Devante brings the total package to the table, as he is a focused student with a 3.6 GPA and already earning college credit.
The conference player of the year projects as a 20+ offer kid due to his versatility, currently being ranked the Co #1 RB and #1 LB in the state of Washington. "I'm just excited to get the offer from OSU, I went to a game there earlier in the year and really liked the atmosphere so I'm looking forward to checking out the school".
Expect other high end academic schools, as well as universities from outside the area to be coming in on Downs shortly. He looked phenomenal at our elite event in Seattle a few weeks back and we expect things to only pick up for the kid from Mountlake Terrace.