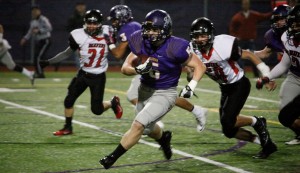 The 2014 RB class in Washington may go down as one of the states best of all-time. With big names like Devante Downs, Budda Baker, Isaiah Brandt-Sims and Drew Lewis, a name people seem to pass up a lot is Jack Gellatly (6-0 215) of Issaquah.
Currently Gellatly is ranked fifth in our 2014 RB rankings, and a guy we will be adding to our DB rankings as he is equally good on that side of the ball. Speaking to NEI, Issaquah Defensive Coordinator Fred Abila said, "Defensively, Jack is very smart, tough, and loves contact. He gets our secondary lined up".
He continued, "He plays with focus and intensity and raises his teammates level of play. He demands that of his teammates on and off the field."
This past season was good for Gellatly on both sides of the ball. He was voted first team All-Kingco at RB and DB, and received second team All-State at RB by the Associated Press. He was also a part of the Seattle Times: Star Times All-Area Team for his work at the RB spot.
On the year Gellatly rushed for almost 1,200 yards and 17 TDs, while almost single handily carrying the Eagles to the preliminary round of the state playoffs. As a sophomore Gellatly finished with 109 carries for 693 yards and 9 more TDs.
Gellatly has the ability to run inside or outside. He has the power and size you like going through the tackles, and the speed to get to the corner and outrun defenders down field. Watching his film you will see the second play he is running away from a few Federal Way defenders that are D1 kids.
In the classroom, Gellatly is just as good as he is on the field. Through his sophomore year he was at a cumulative 3.96 grade point average.
With Issaquah bringing back a few quality lineman and graduating a few other key pieces, you can expect to see Gellatly get a bulk of the carries next season and 2,000 yards is definitely not out of the question.