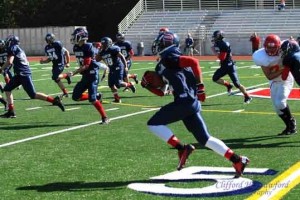 Its rare that we will ever report on an 8th grader for a variety of reasons. That said this kid could be the best youth back I have ever seen at this age. Salvon Ahmed (5-10 150) of Juanita is the type of young athlete that collegiate programs offer before entering high school.
He has never played with kids his own age until this season, and as you will see by his highlight film it wasn't really fair for others that had to guard him. His ability to cut without losing top end speed at such a young age speaks to his ridiculous upside. Salvon says, "I'm really excited to go play for Coach Tarantola and his staff, I think we have a couple special classes and I'm looking forward to playing with all the guys".
Ahmed ran for over 400 yards in the 8th grade Championship game this past season, making defenders look silly. The video is jaw dropping, as you see a kid that could legitimately come in as a freshman and be one of the better backs in the state.
Salvon is a three sport athlete, playing for the best AAU basketball team in the state (Seattle Rotary), and also doing his thing on the track. Referencing the talent coming back at Juanita Ahmed says, "All of the guys have been great…Tavin, Makiah, Terin and the rest of the Juanita football community have really helped and always been there for me".
What makes Ahmed even more dangerous is the fact that he will have one of the better lines in the state blocking for him. Thomas Toki (6-1 285 So.) and Paul Finau (6-2 295 Fr.) project on the defensive side of the ball, but will happily block for the young speedster.
He says, "I've really looked up to my grandpa who has taught me a great deal about how to play the game.. He would have had a professional career but was drafted into the Navy". More then anything Salvon portrays a kid that is very humble. Every touchdown that you see him score he tosses the ball to the ref and moves on with his business.
His gifts as an athlete are very visible, but his maturity at such a young age makes him that much more lethal. We are big advocates of Sean Tarantola and his Rebel program, and we look forward to following all of these athletes as they look like one of the best teams in Washington in the coming years.