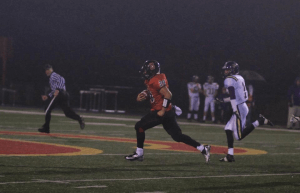 Even though he only played in six games this season, Steilacoom RB Michael Mack had an outstanding sophomore season, rushing for over 900 yards and 11 touchdowns. His abilities on the football field have already garnered the attention of the Washington coaching staff, and two weeks ago he took in their Junior Day events and spoke with NEI recently about his time on campus…
"It was great," Mack told Northwest Elite Index. "The coaching staff there at U-Dub is amazing. We broke out into position groups and I went with the running backs. I spent a lot of time with coach (Jordan) Paopao who coaches the tight ends and fullbacks and they feel I'm a guy who could fit into that role well.
"The coaches talked a lot about how they would use us and how they would improve us as players… It was really great to see how that program functions and how they are trying to build it."
At 6'1″ and 225 pounds Mack was a mismatch for most of the players he faced, and he pounded away at defenses in the six games he played, missing two games due to a minor concussion.
"Because I was a younger guy, I really didn't start to see much playing time until the fourth game, so I had to take advantage of my opportunities when I got them," Mack said. "I played a little on defense too and I would play anywhere my team needs me to play, but if I have the choice I would choose offense because I feel more comfortable with the ball in my hands."
Mack said he plans to take in several camps at Washington including their Rising Stars camp in June. He also said he's open to going to other schools' camps as well, but he hasn't checked out the dates on those at this point in time.
The sophomore tailback is definitely a player to keep an eye on over the next two years. He's from a small school, but he has the ability to play at the highest level and knows he needs to keep working hard to get his name out.