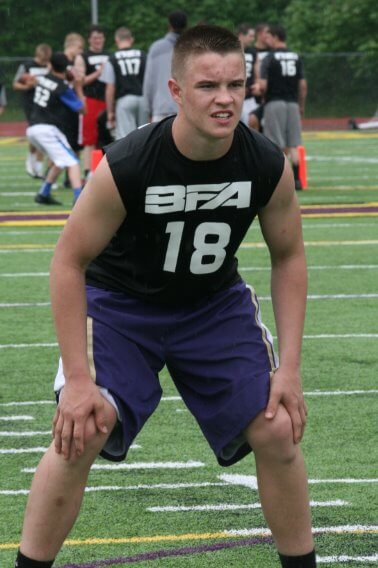 Most people in the state of Washington are familiar with the name Sirmon, with the family having a great deal of success on the gridiron over the years. We have talked about Cy Sirmon (6-2 210 LB) of Wenatchee previously, as he is one of the top sophomore linebackers in the entire region.
Cy's upside is off the charts, as he still has a lot of room for growth on an already legit frame. He was a standout on our NEI/Barton Camp and Combine Tour last off season, and competed with the other top junior and senior backers in Washington at our Elite Events.
As most know his uncle Peter Sirmon was a standout at Oregon and in the NFL with the Tennessee Titans. He is now considered one of the top young coaches in college football nationwide, currently at UW.
His father John was a standout D end for Idaho, with the rest of the family also having legit D1 ability. His younger cousin Jacob Sirmon is a 7th grade Quarterback out of Bothell, that could potentially be one of the better QB's to ever come out of Washington.
In summary its a very talented football family, but more importantly just good people. Wenatchee should be one of the better teams in Washington over the next couple years as they return a host of talent at all positions.
Cy competed in wrestling this past season and also got sick dropping down to 184 pounds, but has bounced back nicely. He says, " I feel like i'm my normal football ready self again and im dying to put on the cleats". Sirmon added, " I went to UW and Idaho's Junior Day and I plan on getting out to all of the NEI/Barton events, and as many college camps in the west as I can".
Sirmon's teammate Isaiah Brandt-Sims is an NEI favorite and was the Big 9 Player of the year this past season. Brandt-Sims speed coach Colan Sewell is considered one of the top speed coaches in the country (SIS), as Isaiah ran the fastest 60 meters in the U.S. a few weeks back. Cy will be training with Colan as he says, "I'm going to be working with Coach Sewell and trying to bring down my 40 time a little bit, while also working on my flexibility and overall upper body and lower body connection".
Expect Cy to be grinding for the next 6 months in preparation for next season. He has a phenomenal work ethic, and has never been a kid to sit back on the family name. I expect the Panthers to be a Top 10 team entering next season, with Cy being in the best shape of his life.
Lip service aside you don't get much better people then the Sirmon family. We look forward to bringing you updates on Cy over the off season and as the year progresses.