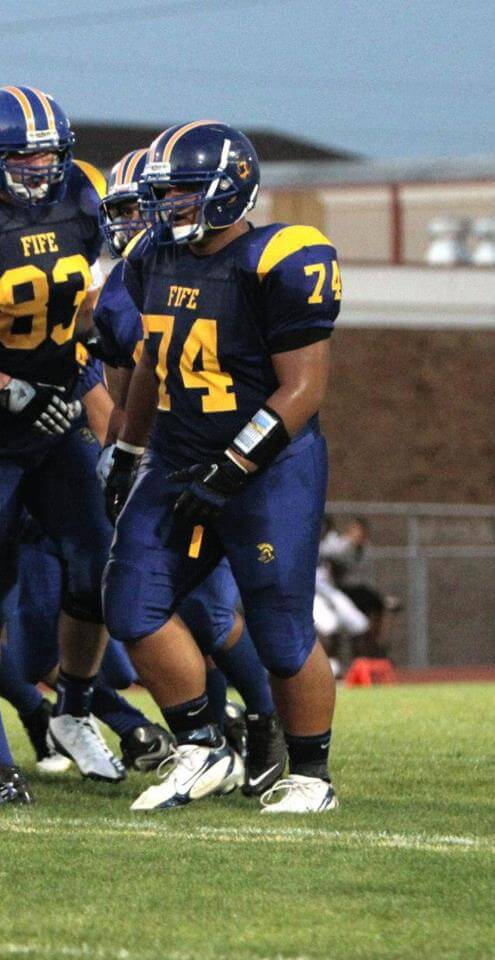 The state of Washington has plenty of solid line prospects in the 2014 recruiting class, but a player making a case as the top defensive lineman in the Evergreen State next fall is Fife's Monike Sarte.
Recently, the talented prospect took part in the state wrestling finals for the heavyweight class in the 2A division and he came out on top, winning by a score of 3-2 in overtime.
"It felt great to get the win," Sarte told Northwest Elite Index. "I beat a kid by the name of Bubba Ruiz and he's also a junior, so we will probably meet again next year too and I know he'll be out for revenge."
As a junior this past season, Sarte racked up 63 tackles and three sacks after posting 54 tackles and two sacks as a sophomore in 2011.
"I just love to hit people. It's fun to get out there and compete and make plays from my nose tackle spot," Sarte said last fall. "Usually I'm double-teamed, so you have to figure out how to use your hands well and get off the ball quickly and your technique is really important as well."
Sarte continues, "My coaches say that I have a good motor and I like to get after it. I don't really care about stats though. If I don't make the play, but my teammates do, it's the same to me. I just do what I can to help my team."
That productivity, added in with his 6'1″, 285 pounds along with his athleticism and quickness has gotten him a lot of attention from schools and he was invited by the two in-state Pac 12 schools to take in their Junior Days, but he had to pass due to his wrestling commitments.
"Washington and Washington State both wanted me to visit, but I had wrestling and both of them were during my tournament," Sarte said. "I've talked to both of them about going for a visit, probably during spring ball, to meet with them, get on campus and see what they are all about."
In addition to the two in-state schools, Sarte said he's also hearing from the likes of Oregon State, Oregon, Arizona State, Boise State and Eastern Washington. Sarte plans to take in several camps this summer, but is unsure which ones at this point.
Offers have not been forthcoming at this point, but some are likely just around the corner and we here at NEI will have that news as soon as it happens.