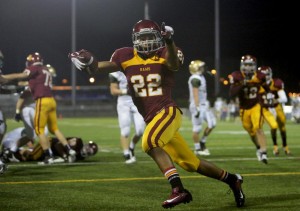 If the name sounds familiar that makes sense, as the Scarlett family is one of the more athletic groups that have come through Oregon in the last decade. Cameron Scarlett (6-2 200 So. RB/FS) had a monster sophomore season at running back for the Central Catholic Rams, getting in the end zone 11 total times during the 2012 season.
The Rams lost a memorable quarterfinal game to Tigard after a successful regular season going (9-3) overall, and winning the Mt Hood Conference once again. Cameron's brother Brennan was an Oregon Player of the Year a few years back and is currently at CAL. He left some big shoes to fill and Cam has done a very good job early in his career.
The younger Scarlett had a breakout game early in the season against Jesuit, and kicked off a very successful sophomore campaign for himself. Cameron is a three sport athlete doing well for a top 5 basketball team . His father is regarded as one of the top track coaches in the west, and made the move from St Mary's to CC this year to coach the Rams. This is obviously very exciting for the school and Cameron who is a top track athlete as well.
Cam projects as the best sophomore RB in Oregon, and someone that could very easily have 10+ offers before all is said and done. His 3.3 accumulative GPA speaks to his hard work in the classroom, as he understands the necessary grind. He says, "We would like to go undefeated next year, and get over that hump and win a state title". Cam continued, "Personally I would like to go for over a 1000 yards and 20 Tds, and do whatever I can to help my team win".
You can expect Scarlett to also be in the defensive backfield as a safety, being ranked as one of Oregon's top DBs. He will probably be on the field as much as any athlete on the Rams roster next season, as he also returns kicks. The best thing about Cameron is that he is just a good kid. He projects as a D1 Pac-12 type athlete, and will be able to team with one of the other top backs within the state in Ryan Nall (6-3 220 Jr.) next season.
Scarlett went for over 800 all purpose yards splitting reps with a host of other talented kids. Next year will be different as Cameron will be a go to guy as CC will once again be good. "We have some talented lineman coming back and I'm looking forward to next year… Connor Humphreys, Liam Rowley return as starters, and James Cory and TJ Salu should both play a big role".
As always Central will be one of the better teams in the state, as they return a host of athletes who rank at the top of their position state wide. Cameron will be a junior leader, and someone that we should expect to see challenging for next years state rushing title. We wish Cam continued success moving forward and will bring you updates as they happen.